TODAY'S EXCLUSIVE
BLACK FRIDAY DEALS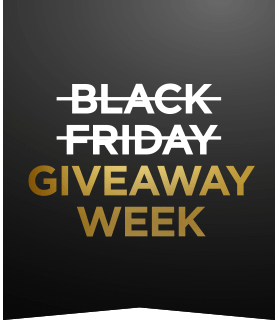 BRONZER AND BRUSH DUO
ALL-IN-ONE BRONZER & BLUSH
Instant sunshine!
A beautiful bronzer and blusher in one that will give you the gorgeous glow of summer and a perfectly shaped bronze & blush brush that gives a natural and even coverage for flawless application & a natural finish.
RESULTS:an instant healthy, pick-me-up | sun-kissed glow | illuminates | even-coverage for an all over bronze | instant radiance | even coverage for an all over bronze | perfect for a flawless finish | contoured and shaped face | make-up artist finish.
VELVELUTTO
VELVET FACE BASE
The most amazing base you will ever use!
A powder – cream foundation face base for an even, smooth, radiant complexion. Clever pH adjusting for a make-up artist finish.
RESULTS: soft focus finish | even skin tone | the kiss of health for skin | exquisite velvety texture..
A STROKE OF GENIUS
SERUM MASCARA
The little black dress for the lashes!
A nourishing mascara with a conditioning formula that separates, curls, defines and lifts each lash for full and voluptuous lashes.
RESULTS: clearly defined longer lashes | dramatic lift and length | conditioning lashcare ingredients | fl exible build for increased volume | no smudging | no flaking | no running | no clumping | long lasting all day wear.
GLINT
SHADOW CONCEALER
When you need a miracle!
GLINT is an adjustable coverage concealer that hides dark circles, skin discolouration, imperfections and fine lines. It also brings a bright radiant touch to your skin
RESULTS: hides skin flaws | perfects and evens skin tone | won't dry out your skin | hydrates as it conceals | brightens the appearance of skin.
THE CONTOURIST
SKIN FIRMING & BRIGHTENING FACE MASK
Gorgeousness unmasked!
Facial mask to help sculpt and define facial contours, while brightening, lifting, and targeting wrinkles.
RESULTS: Instant brightening & lifting | soft focus wrinkle 'filler' that nourishes and regenerates | helps sculpt & define facial contours | conditioning & plumping.
DUVET
COMFORTING & HYDRATING BODY CREAM
A hug for body and soul!
A moisturising aromatherapy body cream to help calm, soothe and hydrate your skin.
RESULTS: Intensely moisturising | Skin softening | Toning and smoothing | Restores suppleness | Revitalises skin leaving it silky and treated.
SUGAR BUFF
MEDITERRANEAN SUGAR BODY SCRUB
Prepare to bare!
Our best body scrub for all skin types. An all-over anti-ageing body scrub that leaves your skin smooth, fragrant and buffed to perfection.
RESULTS: Exfoliates | Smoothes | Hydrates skin | Leaves skin feeling silky and soft | Gives your skin an all-over radiance.
Black Friday offer of the day
Spend £50 today and you will get a free 150ml Peace Be Still worth £19
AMAZING SPACE
SPA AROMATIC DIFFUSER
Simply delicious Mediterranean aroma
An uplifting seasonal fragrance that transforms any space into the inviting ambience of a luxury spa.
RESULTS: Creates a comforting & inviting space | provides a long-lasting fragrance lift | embellishes & dresses any room with spa style.
GREAT FOR Infusing your home with the fragrance of the Mediterranean.
DREAM STONES
LUXE SOAP TRIO
Love. Joy. Peace.
A trio of triple milled luxury soap bars that will leave your skin cleansed & soft and mind restored.
RESULTS: Gentle cleansing | deeply nourishing | soothing fragrance blend | leaves skin feeling smooth & silky.
GREAT FOR All skin types
WORTH £50 | PAY £40 | SAVE £10
Plus, free standard delivery all week
Click here to read the Black Friday Giveaway Week Terms & Conditions