When the festive season rolls around, our attention turns to the parties and gatherings we'll all be enjoying – and this year we'll be making up for it! If your office Christmas party invites have been sent out, keep reading for our best beauty tips to keep you sparkling and looking fabulous all night long….
It's all in the skin prep
As much as we love adding the sparkling eyeshadow or a colour pop for our lips, if you don't get your skin prepped in the right way then by the end of the night, your makeup will be looking a little worse for wear.
A double cleanse with a balm and then a gel or cream cleanser will help lift the dirt and grime from your skin and keep it looking fresh. Take a toner to take away any last traces of cleanser and help to balance out complexions (hello TONING ESSENCE!) and move through with your serum, eye treatment and moisturiser. To get the full lowdown on what you need in your skincare routine, head to our How To Build Your Own Skincare Routine blog.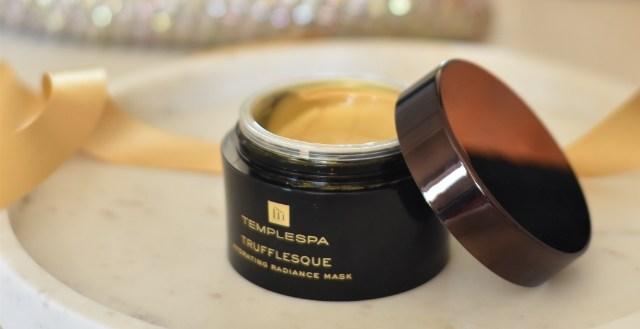 By the end of your skin prep you'll have smooth, soft and glowing skin. Adding in a mask between your toner and the next step is a great addition, for us it has to be TRUFFLESQUE Hydrating Radiance Mask. Not only does the exquisite gold shimmer and cooling texture shout "I'm here for the party!" but the results are radiant, hydrated and plumped skin.
Primer & Setting Spray
So your skin is looking glowing and feeling hydrated, what next? If your Christmas party is guaranteed to be a long and enjoyable evening, then a primer is a must. Any good primer will create a smooth, seamless base and help lock in your foundation so there's no transfer or movement throughout your Christmas party.
A TEMPLESPA tip is to use our MOISTURE MATTE Mattifying Moisturiser, not only is this silky smooth cool gel perfect to create an even base but the clever oil-absorbing microsponges keeps your skin from any shininess!
If we're talking about primer then a setting spray is another essential for any office Christmas party. Opt for one with great hold and staying power, but also on the hydrating side to give your skin an extra moisture boost.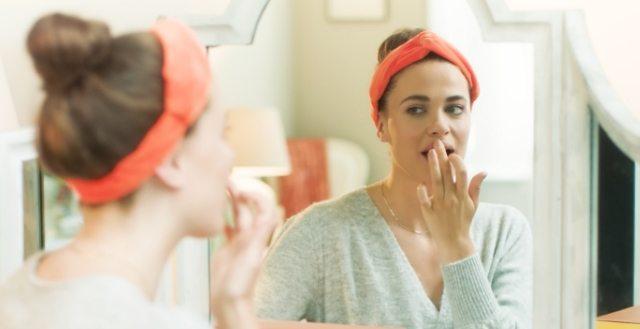 Lips or eyes? You choose
Now onto the fun part of preparing for your office Christmas party, a statement lip or glamour eye makeup? Choose either or and get creative. Before you start applying colour, look to prepare your lips and eyes.
Buff away chapped and dry lips with a scrub then rehydrate with a nourishing lip balm, we love ALL TALK Moisturising Lip Balm or LIP DEFENCE SPF 30 Protecting Lip Balm for a hydrating boost. Take a specialist eye primer, apply and blend, then leave for a few moments to settle before applying your eye makeup – trust us when we say no creasing or fall out when you do this!
Festive Manicure
Another part of any office Christmas party preparation is our manicures. Get experimental with nail art, try a bold glitter or go with a classic shade of deep red or festive green.
Before and after nail care is important to ensure your manicure stays fresh and office Christmas party ready, so keep on top of it with PALM BALM Nourishing Hand Cream. Our hydrating hero is full of vitamins to help protect and repair while in a non-greasy yet moisturising formula, remind yourself to keep applying throughout the day. For more hand care tips, especially for this time of year, check out our Best Hand Cream For Hard Working Hands blog.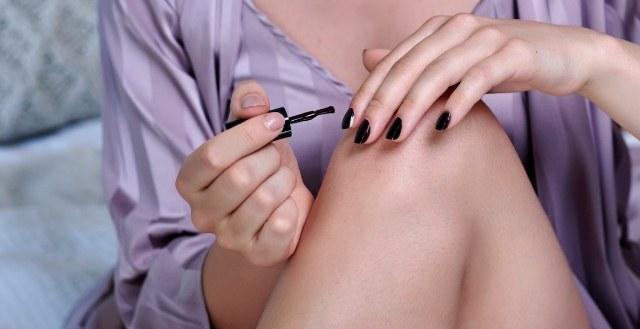 Don't forget body care!
All part of the office Christmas party prep is a fabulous body care routine. Now you've chosen your outfit and accessories, your nail appointment is booked and your skin is looking glowing and radiant, it's time to think about our body care routine.
A great scrub and shower gel like IT'S A WONDERFUL LIFE Energising Shower Scrub will slough off any dead skin cells and leave the skin cleansed and feeling energised, the uplifting citrus blend will add that zing to your day. Any special occasion and office Christmas party calls for BODY TRUFFLE Rejuvenating Body Radiance Crème as our body lotion of choice. Not only is this super moisturising formula brilliant for rehydrating and evening out the skin, but a touch of rose quartz, champagne and truffles adds luxury and a beautiful radiance to the skin.