Here at TEMPLESPA, we appreciate that's sometimes life can be difficult, we understand the importance of maintaining a healthy mind to help combat challenging times, even more so with the events we have all lived through recently.
Our founders, Liz and Mark Warom and all our staff applaud the outstanding work that the charity Mind does to ensure that everyone with a mental health problem receives support and respect.
So, for the fourth year running we will be supporting Mind as one of our key charity partners for 2021.
10th October is World Mental Health Day and we're making October Wellness month at TEMPLESPA.
Explore below for tips & advice to help you & those around you maintain a healthy mind, body & soul.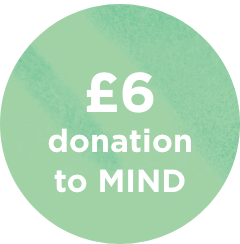 LIMITED EDITION REPOSE
Relaxing night cream
Vitamin-rich, anti-ageing night time moisturiser to calm, relax, soothe and settle.
Buy one for £40 and we will gift you a second for FREE
SAVE £44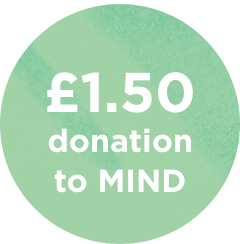 LIMITED EDITION GIFT
WITH YOU IN MIND
relaxing night cream
Introducing WITH YOU IN MIND, our limited edition collection of specially selected product to restore calm for yourself or a loved one.
Spend £50 & buy for £15
LIMITED EDITION
MIND COLLECTIONS
featuring REPOSE night cream
Recieve a free REPOSE with any MIND COLLECTION purchase
Here at TEMPLESPA we're making October Wellness month because we understand the importance of looking after your mind and body.
#1
Make a relaxing cup of SERENI-TEA
#2
Light your SIESTA FOREVER tealight
#3
Drizzle DRIFT AWAY into a running bath
#4
Breathe in REPOSE & massage across face & neck
#5
Massage in PEACE BE STILL and relax…
OUR VERY OWN WELLNESS TOOLS
THE SOUND OF TEMPLESPA
This beautiful collection of musical MED-itations are inspired by our TEMPLESPA products and have been created by the hugely talented Chris & Abby Eaton. Our desire is that they will bring you peace, joy and strength.
Moments of Peace
Flowing piano melodies, mixed with layers of warmth and depth, coupled with dreamy vocal themes and lyrics leading us deliberately to a place of renewed peace, bringing us back in touch with who we are. Who we are made to be, a family, held protected and loved.
The Repose Suite
A collection of the most restful music ever. Beautiful vibes of peace and slumber, created to help you soothe, settle and find that inner smile, which isn't always easy with the mental chatter and external noise.
Take yourself on a journey and find your place of quiet and REPOSE.