Ready to relax, re-energise and indulge? The Stables Spa at Studley Castle is the perfect place for it. As part of Warner Leisure Hotels, The Stables Spa is the sanctuary oasis of calm on the backdrop of rural Warwickshire countryside and in a historic castle dating back more than 180 years!
We spoke to Sports, Spa & Leisure Manager Lydia Knight to find out everything you need to know before booking your spa day here, so let's get started…
What is the first thing a customer should feel/see/smell when they arrive at your spa?
Relaxed, calm and breathing in the aromas of lavender from TEMPLESPA DRIFT AWAY Relaxing Bathing & Massage Oil.
What is the one thing that you want your customer to remember about your spa?
The friendly welcome, how relaxed they felt after their visit, the fantastic treatments from our therapists and the escape away from life's pressures.
Which is your best-selling treatment and why?
The TEMPLESPA Bespoke Back and Face Sensation, the glorious treatment begins with a bespoke back, neck and shoulder massage followed by a relaxing, soothing and regenerating facial. It finishes with a divine scalp massage to tease away all final traces of tension and stress.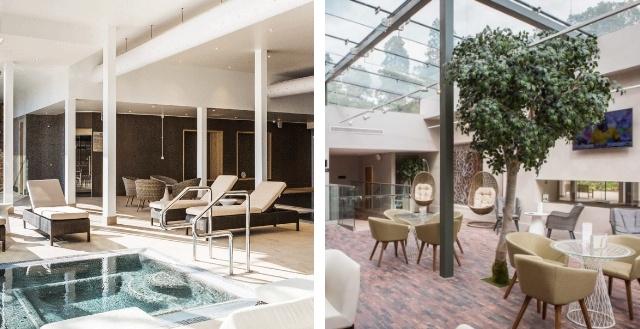 What drew you to partner with TEMPLESPA treatment and products?
The natural Mediterranean feel of the products fit perfectly with our spa and the gentle finishing touches to make the treatments unique. The fair value and the quality products so our guests can purchase the products to continue the spa experience at home
What is the typical customer experience at your spa?
On arrival guests are greeted with a friendly welcome and delicious smoothie then show round of the facilities. Fluffy robes and slippers are waiting in your locker, then a swim in our state-of-the-art pool and bubble pool overlooking the castle bringing the outside in, followed by a dry heat sauna and eucalyptus steam room. Your therapist will collect you from the spa waiting area and take you through for your treatment where you will drift away with the aroma of the Mediterranean oils and relaxing TEMPLESPA suite music.
What is your USP or biggest selling point as a spa?
We are an adult only Spa so it's a perfect getaway and quiet retreat. The theme brings the outside in making it the perfect environment to relax in with a glass of champagne at the Spa Bar!
Which is your personal favourite TEMPLESPA product/Treatment and why?
The MOST REVEALING Glowing Skin Oxygen Peel. The bubbly exfoliator is my favourite product it is fun to use and leaves your skin feeling clean and smooth!
Now doesn't that sound like an inviting spa day just waiting for you? Ebb away the stresses of the day and simply take that time for you at The Stables Spa at Studley Castle. Head to their website to find out more and what's in store for you.