Welcome to the beautiful crisp month of November. The clocks have changed, the nights have drawn in and we adjust our minds and bodies to all things warm and cosy to embrace the delicious season of autumn-fest. T-shirts, shorts and flip-flops are replaced with wooly jumpers, leggings and boots and the sharp air gives you energy and focus, I just love it.
For me, November is a transitional month and although it's too early to get out the Christmas decorations, I start to add some berries, pomegranates, and red fairy lights to gradually let the winter in. You don't need a big budget to create a warming ambiance, if you walk out into the countryside with some secateurs you can gather acorns, fir cones, trailing ivy and red berries and it's such fun to pop them along windowsills, mantelpieces and dining tables with a few red tea lights and you've transformed your space.
If you haven't yet hopped onto the TEMPLESPA seasonal-gift-collection section, you're in for a great treat, so grab a cuppa and do a bit of armchair browsing. Our theme this year is called SPREAD YOUR WINGS & FLY. We were inspired by the beauty of birds and their intricate feathers, their structure, texture and colours. Alongside the connotations of luxury and opulence, feathers are symbols of hope, strength and freedom which we think are perfect for sending messages of love and care to all who will give and receive them.
I've created a Liz's edit for you with my personal favourites but do have a little look yourself. We can deliver for you to your recipient, create a personalised message and gift wrap too, so it's pretty effortless and with the option of Klarna/Clearpay you can 'buy now' and pay in 30 days or spread the payment over 3 or 4 instalments. It reminds me of when I was small and my mum used to have a 'Christmas Club' and I guess this is a similar principle, it helps the budget but also planning too.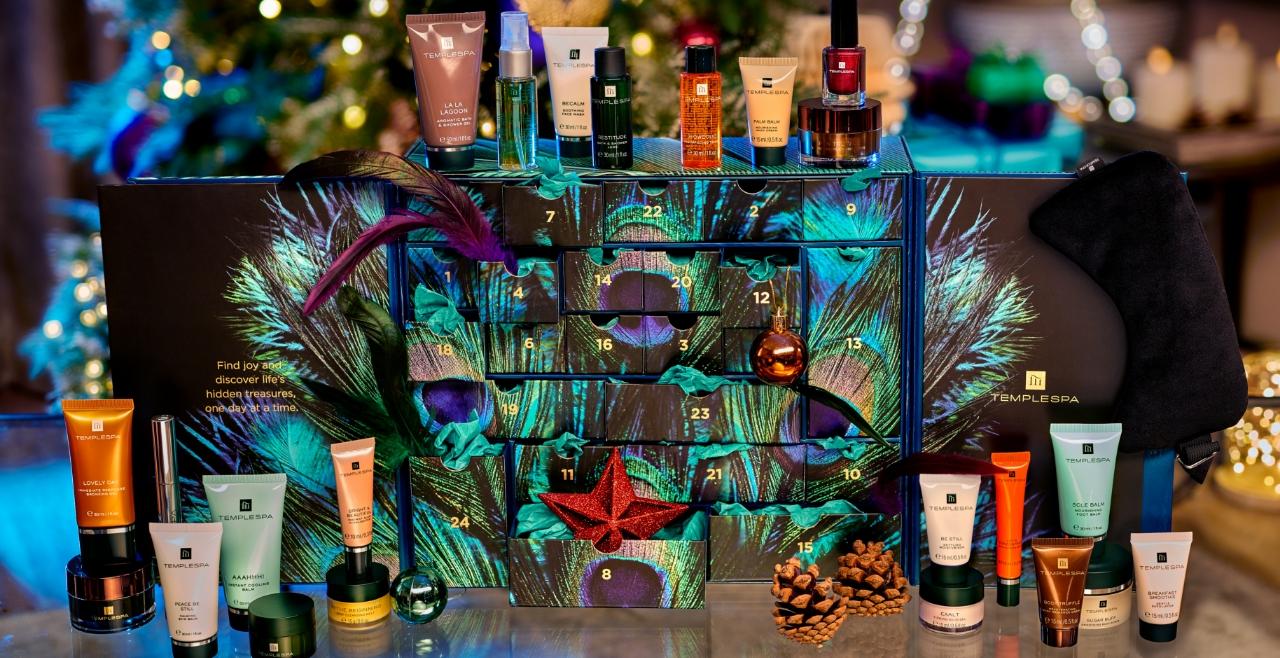 ADVENT CALENDAR £150, worth £300
Countries in Europe have been having these for years, but it's a relatively new concept in the UK, but for the past 3 years we have quickly run out and this year…well humbly, we honestly think this is the best Advent Calendar you will ever see! £300 worth of products are housed in this fabulous wardrobe style keepsake box, it's strong, sturdy and elegant, but more importantly it has 24 completely desirable gifts to open each day from 1st to 24th December. At £150 it is incredible value for something that is so, so luxurious and lush.
If you're already familiar with TEMPLESPA, you will defo know TRUFFLE. It's our signature capsule range, sometimes coined "The Bentley of skin care"! Look no further if you want to treat yourself or someone special in your life who loves all things celebratory like champagne, chocolate, strawberries, truffles, gold, silk and of course, diamonds, but perhaps with an accessible price tag. Bring on…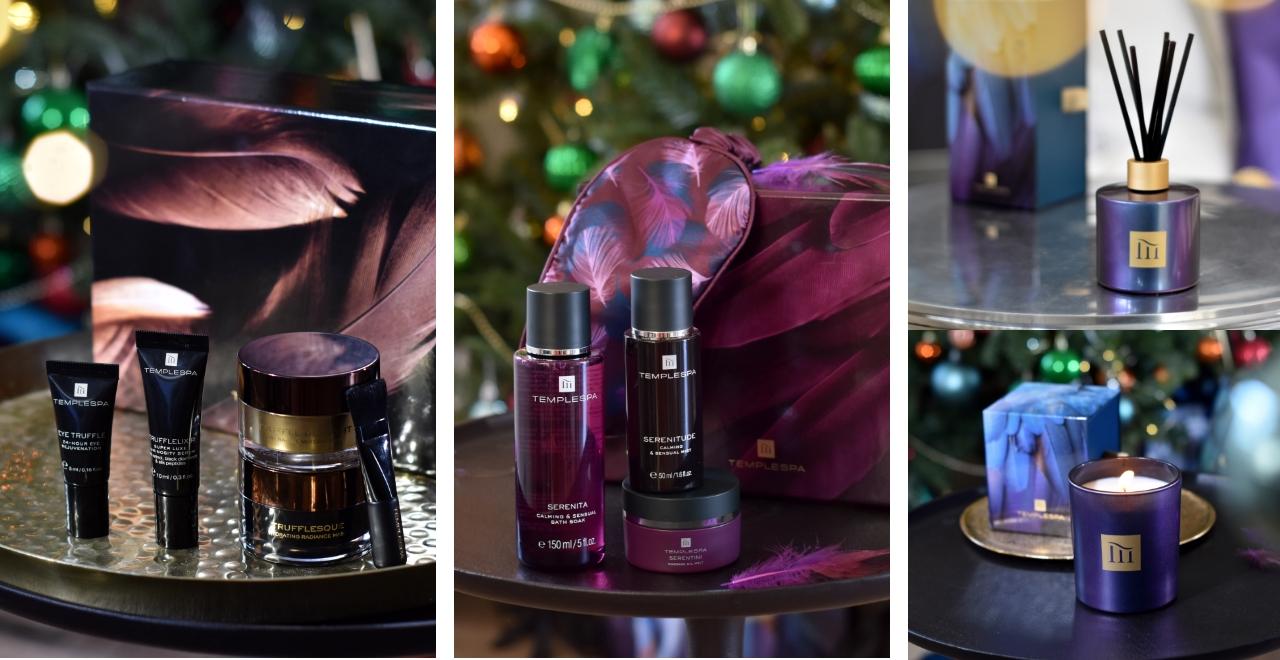 If you yearn some 'me time' or 'our time' you will love my next gift choice. Perfect for some chill-out on your own, with your partner, or as a beautiful ritual to give to someone you love, look no further. We all need to disconnect and reconnect and BLISSED OUT is just the trick.
BLISSED OUT Calming & Sensual Collection, £50
We crafted a curious blend of Mediterranean essential oils including neroli, black pepper, cypress, lavender, patchouli, frankincense and myrrh to create a sensual aura of tranquillity. The delicious fragrance laces bath soak, massage oil melt and room mist and a beautiful satin eye mask shuts out the world from reality! A true escape.
Every year, we introduce a limited edition for our home collection and this year's is proving to be our most successful version ever. We have vibrant citrus top notes, balanced with rich plum, leather and a hint of delicate rose and jasmine and base notes of oakmoss and tonka bean. It's a comforting fragrance cleverly designed to cocoon your senses and fill your home with light and warmth and check out the gorgeous glass decoration inspired by the incredible swathe of colours you see on a beautiful bird.
Choose RISE UP Festive Aromatic Candle £35 and BREATHE DEEP Festive Aromatic Diffuser £45.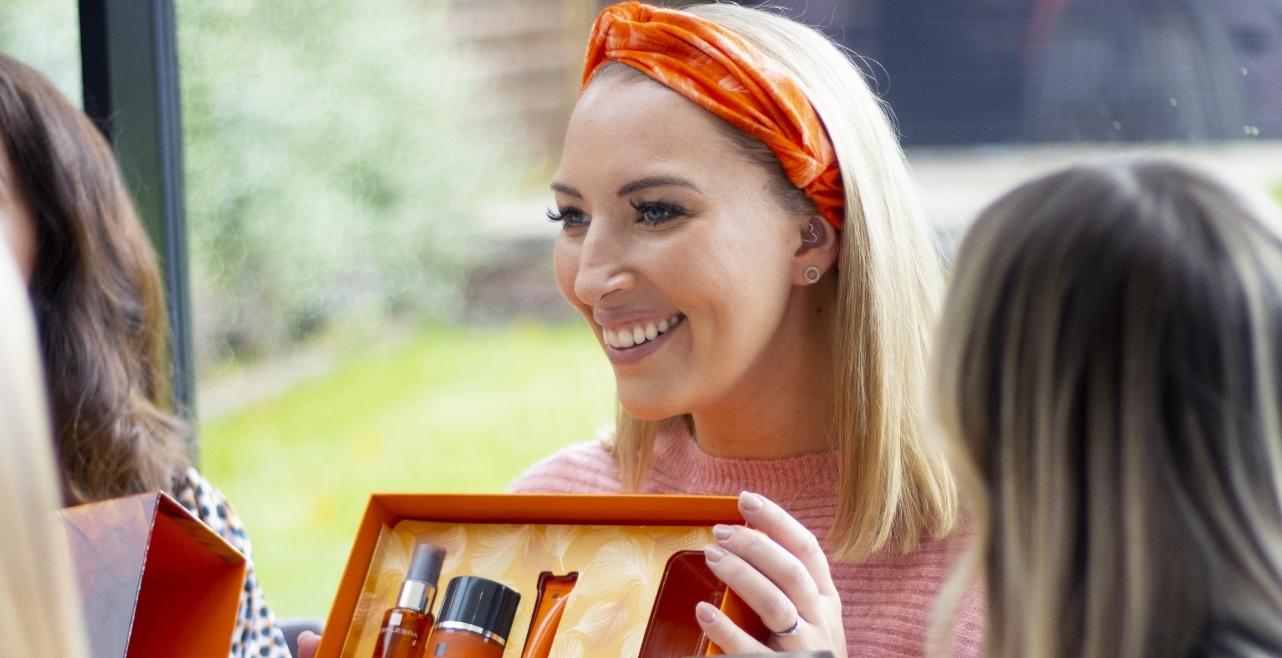 To really get the full experience of our seasonal gift collection and other beautiful TEMPLESPA products, and all of the beautiful scents and textures, how about hosting a Seasonal Gifting Class in your home or workplace? It's such fun and all you need to do is gather a few friends or colleagues, lay out some festive nibbles and let one of our gorgeous Lifestyle Consultants do the rest. It's easy to arrange, you receive fabulous host gifts and your guests can choose from treats from £10-£150 and everything in-between. Pop in your details here and we'll connect you with someone near you.
Finally, I'd like to close off by thanking our wonderful customers who supported us in October with our REPOSE campaign with Age UK and Life Support. Each year we're bowled over by your generosity and open hearts to support the hard work of the charities. We're totalling up the final amount and will be sharing this with you all soon, so keep an eye out.
Have a fabulous month
Love, Liz x