Ready to meet your luxury countryside escape in East Cheshire? It's our Spa Of The Month for October, Manor House – the perfect spa day to treat yourself, unwind and totally zen out at. Indulge in a tranquil spa day featuring TEMPLESPA treatments, exciting facilities to discover and the best English Country Spa Garden experience.
We spoke to Spa Manager Hannah to discover what the typical day spa experience is, which are the must-try facilities and why you need to book Manor House Spa as your next must-visit.
What is the first thing a customer should feel/see/smell when they arrive at your spa?
Our guests are welcomed to The Spa with the aroma of the KEEP THE PEACE Diffusers, creating a sense of calm and tranquillity. The view of the indoor pool and hanging day bed gives our guests the wow factor, creating excitement for their experience to come. Guests have a true sense of being lost in a countryside escape away from all distraction, from our rustic charm decor, warm wooden textures, and seaside blues, whilst overlooking the stunning Courtyard adorned with greenery and flowers for true escapism.
What is the one thing that you want your customer to remember about your spa?
The personal touches are what we thrive on. As a family run business, we wish for all guests to feel at home and comfortable in the spa and our team are passionate about ensuring everyone has an experience bespoke to them from the time and care taken on the welcome show round, to the unhurried spa treatments and space for all in both indoor and outdoor areas.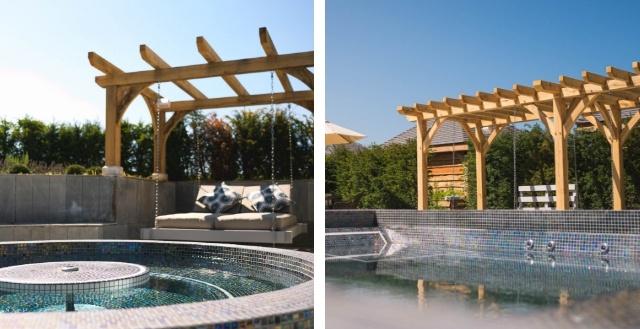 Which is your best-selling treatment and why?
The Signature TEMPLESPA x Manor House Massage (60 minutes) is our most popular treatment, combining the popular Drift Away massage routine with our signature akwaterra heated terracotta pods and the LIGHT RELIEF CBD oil to bring you into a deep state of relaxation, whilst also aiding with tension and calming the mind from daily stresses.
What drew you to partner with TEMPLESPA treatment and products?
We were drawn to partner with TEMPLESPA as we wanted to create a link between the hotel and spa and with a range of luxury amenities and TEMPLESPA made it possible to have a spa feel in the bedrooms and washrooms. We were already providing very popular tRiBe517 treatments and our guests feedback is very important to us, so we took on board guests seeking more prescriptive facial treatments which TEMPLESPA ticked the box for!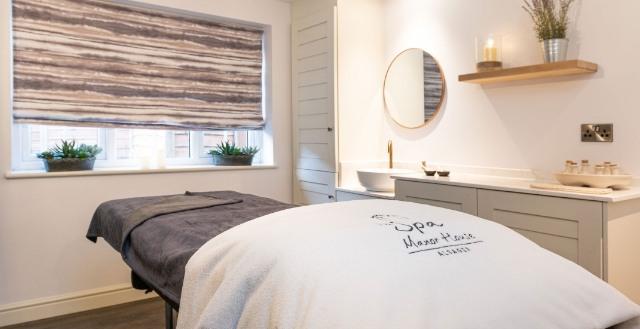 What is the typical customer experience at your spa?
From Spa Days to Spa Breaks… there is an experience for everyone no matter how much or little time you have to spare! Take a moment of calm away from the hustle and bustle of daily life with one of our morning or afternoon experiences or have the ultimate date with relaxation and spend the whole day with us… we await your arrival with a homemade arrival drink and itinerary to hand. Get cosy in our signature manor house robe and flip flops with a lido towel under your arm and explore everything our rustic countryside spa has to offer! Indulge your tastebuds with either lunch or afternoon tea in our Stables Restaurant and then head back to the swinging day beds and order a refreshing cocktail/mocktail with our poolside bar service!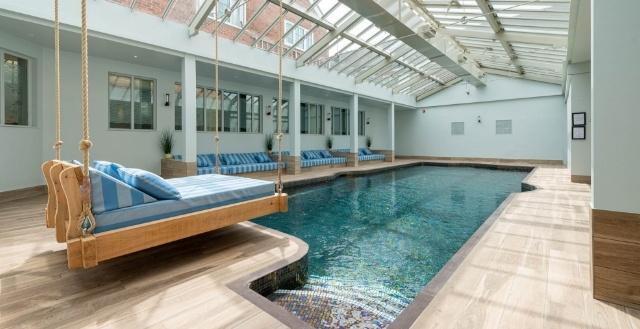 What is your USP or biggest selling point as a spa?
Our English Spa Garden captures the location perfectly as we are nestled within the countryside giving guests a home from home feel with nature in mind. Guests are surrounded with freshly sawn larch wood thermal sheds, carefully curated herb and flower planters to give the ultimate sensory and zen experience. They can then embark on their own journey with a new experience to explore around the traditional hedging…like being in your own secret garden!
Which is your personal favourite TEMPLESPA product/Treatment and why?
My personal favourite TEMPLESPA product is the BREATH OF LIFE Inhalation Essence as it instantly gives you a moment of mindfulness. I always like to have it by my bed to use either at night or in the morning to help relieve my sinuses and calm my busy mind. We use a few drops in the cauldron of our salt shed experience to enhance the benefits of the meditation experience.
Does that sound like an idyllic spa day just waiting to be booked? Find all the latest information, TEMPLESPA treatments and more on the Manor House Spa website.