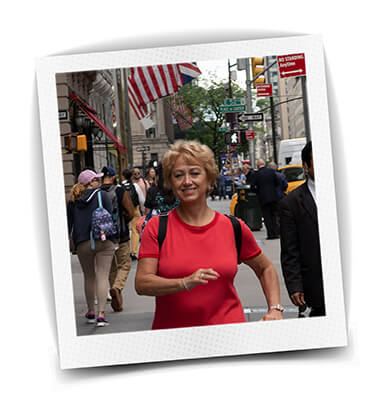 Greetings from The Big Apple lovely friends
I write this month from one of my favourite places NEW YORK CITY. I'm here celebrating a "special" birthday and that's all I'm saying! I've walked over 40 miles in the last week uptown, downtown and everywhere in between.
One thing I love about this time of year is using any opportunity to be outside. Be it a spontaneous Sunday brunch, an impromptu evening drink and nibble with neighbours or a full-on celebration with family, summer is the time to do life outside.
Mild mornings, days drenched in sun and beautiful balmy evenings are a rare treat for those of us living way up in the Northern Hemisphere, one must be opportunistic, organised and ready to take full advantage at the drop of a hat. Us Brits have become masters of all things al fresco! I've always got things in the fridge that can go on the BBQ or wood fired oven and I'll put almost anything in a salad on a nice large platter.
We love entertaining and almost always have friends over at the weekend. Mark's speciality is a somewhat sophisticated version of a classic BBQ. While he stokes the coals and turns a bundle of fresh herbs into a basting brush for the grill, I'll happily set the scene, mix a zesty summer cocktail and lay the table.
My stash of trusty summer must-haves help create a gorgeous outdoor entertaining space, bringing the vacation vibe to our little patch of West Sussex any time of day.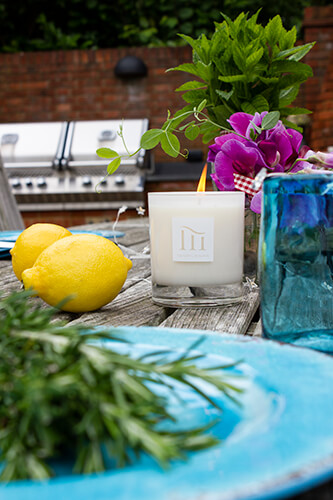 SET THE SCENE…
MUSIC! - First on the list, all day, every day, its in my blood and a huge passion of mine; if there's music, there's joy, we've been known to have campfire sing songs too, ABBA's always a safe bet!
LIGHTING - Another non-negotiable are candles and fairy lights (not just at Christmas!) There's no better way to create instant ambience, romance and to prettify any setting. I never throw away a jam jar, with a gingham bow, metal hanger and a tea light inside, these are a fab way to dress up any surface. Strings of fairy lights or crunched up in more jam jars "jooj" up any gathering.
FRAGRANCE - I welcome guests by spritzing the path with Spiritude, my all time favourite energising scent. Laced with a gorgeous blend of energising essential oils, including clary sage, grapefruit, ginger, orange, peppermint and bergamot, it is Temple Spa's summer in a bottle. Light My Fire aromatherapy candle has the same fresh, upbeat fragrance that will liven up the atmosphere of any space.
FLOWERS - Cut fresh from the garden, I'll gather sprigs of herbs, greenery, sweet peas and roses and pop them into a mix of jam jars and coloured glass vases for the table. The less structured the better.
LAY THE TABLE….
You know it's been a good day when long, lazy lunches turn into evenings of laughter and makeshift suppers with friends. I like the table to be informal and vibrant to set the mood for easy chat and casual eating; sharing stories and jokes as well as delicious food.
Beachy linen napkins, bright melamine tableware, colourful servers and vintage wooden platters lend a rustic charm and festivity to the table.
MIX A COCKTAIL…
I'm a creative person and a major cocktail lover. I can get quite experimental with my mixing when pouring drinks for guests but a real safe bet for summer parties is a cocktail Mark and I discovered last year called the Mediterranean Coast; The fruity and citrus flavours of the Mediterranean are paired with elderflower which creates a cocktail that is as refreshing as the breeze on the Mediterranean coast. It's absolutely perfect for al fresco summer dining and SO Temple Spa!
Ingredients: Bombay Sapphire Gin, Italicus Rosolio di Bergamotto Fruit Liqueur, Clementine Juice, Lemon Verbena Syrup, Elderflower Cordial, Lemon Juice.
ASSEMBLE A SALAD….
Be bold. Make it colourful, flavoursome, and adventurous. I will always use fresh herbs, homegrown leaves and usually an avocado, but will often add juicy stone fruit with soft cheese and some seeds or nuts. My fave dressing is either a drizzle of good olive oil and rich syrupy balsamic or my own Ranch which I'll share with you now.
Whisk together 2/3cup buttermilk, 1/2 cup mayonnaise, 2 tsps Worcestershire Sauce, 1 finely minced shallot, 1 clove garlic finely chopped, 1 tbs each chopped chives, parsley & dill Rock salt and ground pepper to season. Enjoy!
So for now, have a wonderful summer and thank you for your continued support and friendship,
Liz xx