Christmas Shopping, Cooking & My Secret to Good Looking Skin
Season's greetings darlings,
I love this time of year, for so many reasons. Probably like me, you hang onto remnants of childhood Christmases and wish you could reclaim the magic and wonder, but also there's nothing like re-owning this festive season and making it your own grown-up one.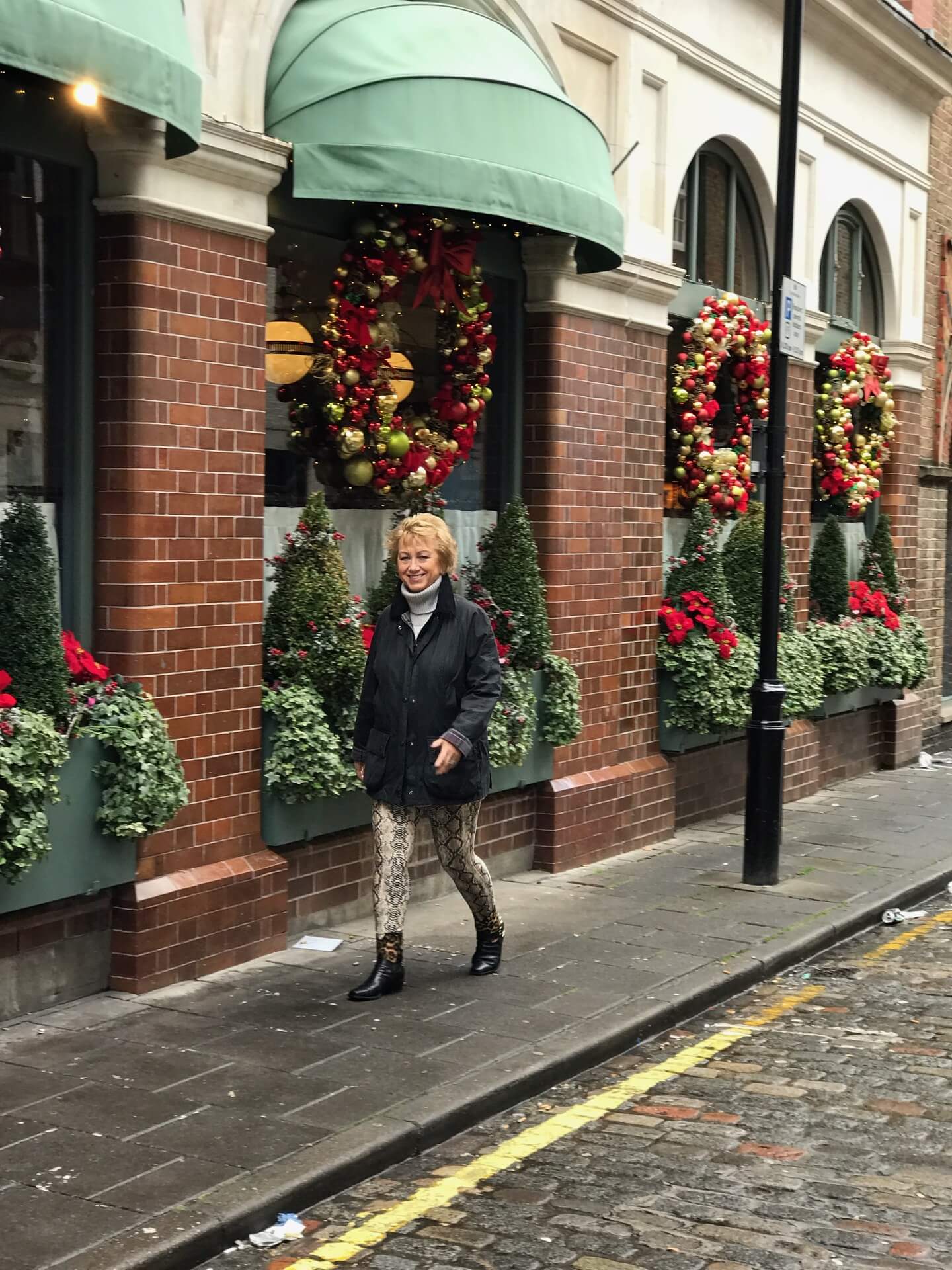 Home Making, Cheeky Cocktails & Carols
You know how much I love to walk and cook, so what does this look like for me this month? Delia, Jamie, Nigella all get a look in as I open sticky pages strewn with traces of mincemeat and the like from previous years! I home make as much as possible and love the build-up almost as much as the big day itself. We're looking forward to the family descending upon us for a feast of good food, cheeky cocktails, carol singing, game playing and much laughter and merriment.
London Walks, Shopping & Culinary Delights
My most exciting walks this month have been in our beautiful capital London. I've walked throughout Covent Garden and the length of Fulham Road and Kings Road, but my favourite of all is Marylebone High Street and this is us, just before we headed into one of the most delightful shops ever that marries the love of walking and cooking, the culinary delights of RANA. Boy do these guys know how to merchandise. When high street retail is suffering so much, you can't help but applaud those that do such fabulous things to stand out.
My Secret to Good Looking Skin
I'm often asked why my skin looks so good at my age (I'm in my late fifties) when I'm out walking and whilst of course fresh air is fantastic for the skin and whole person, I have to be honest and say if I had to pick anything, I think it's down to two products – SKIN TRUFFLE luxury face moisturiser and VELVELUTTO foundation.
SKIN TRUFFLE is the most amazing rejuvenation moisturiser that's loaded with amazing ingredients like truffles of course, plus diamonds, gold, silk, strawberries and chocolate and a clever ingredient called Happy Belle™ that mimics the endorphins that gets released when we're super happy, thus giving radiance. I follow this with a sweep of luscious VELVELUTTO that is the most gorgeous powder foundation that gives the skin a smooth appearance that is super-sheer and makes the skin look instantly clear.
Have an amazing Christmas and thank you for all your support
Much love, Liz xx
Here's Some of Our Recent Christmas Shopping Pics