If you're anything like me, the start of February and coming of Spring is a sure motivation for getting up in the morning. Longer days, the vaccine breakthrough and a light at the end of the tunnel hopefully means we'll all be able to be together again soon.
One of the greatest pleasures I have in life is a good walk and especially at the moment, it's the main exercise that we all CAN do! There is always something spectacular in each season and this was me a few days ago enjoying a crisp Sunday morning walk in the beautiful Sussex countryside.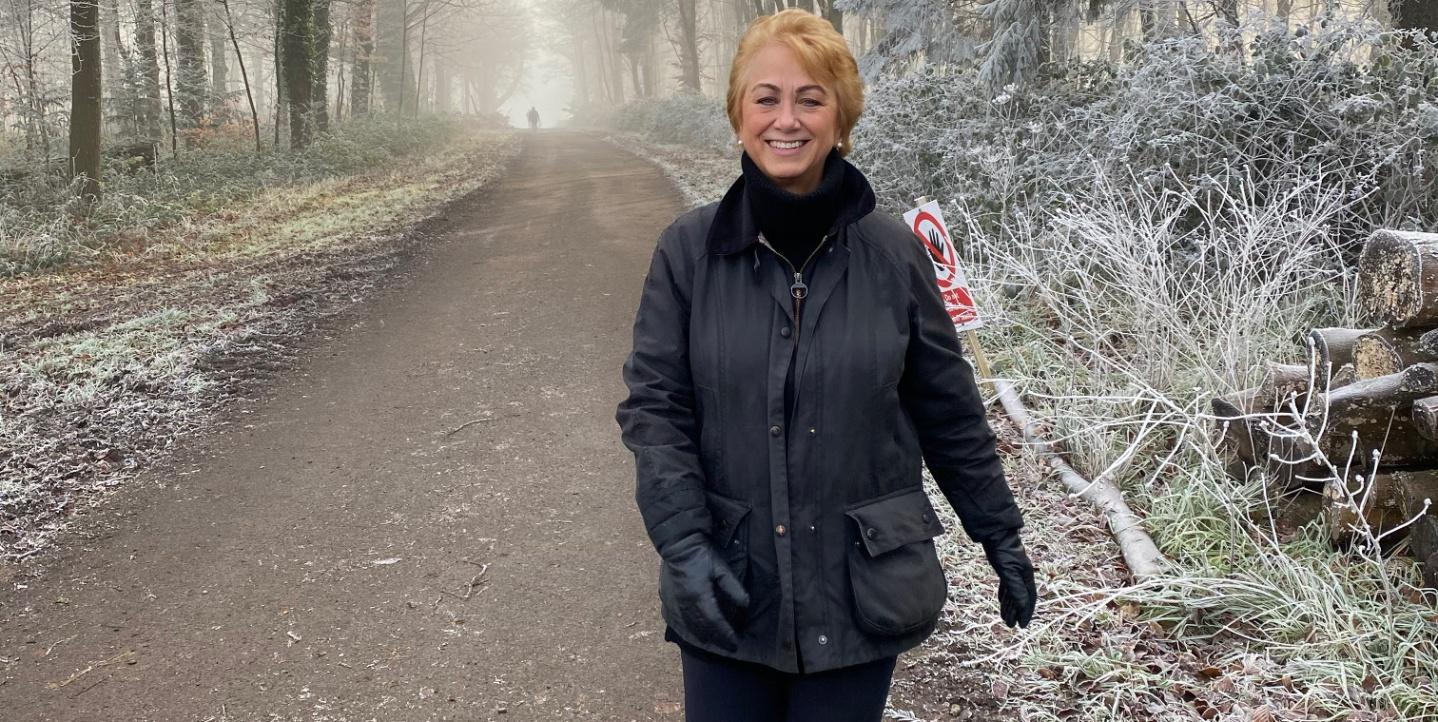 A walk can help to clear the mind and find that energy you've been looking for. "There's no such thing as bad weather, only unsuitable clothing" is a quote from Alfred Wainwright – and I totally agree. So, get wrapped up this month, grab a warming Thermos of tea and set out. There's nothing like a bit of exercise to get the endorphins going, and walking is a fab way to start.
We all know that February = Valentine's Day. I am a true romantic and really do think that familiarity is the precursor to boredom. We always celebrate Valentine's and really see it as a point in the calendar to be intentional with our plans. We've been married for 45 years this year, so I think we've earned the T shirt! Here are some of our favourite tips on how to enjoy the Valentines weekend together with the one you love and some of them can be done 'virtually' with family or friends.
AMBIANCE
We change the pace of our space. If rock is "head" then soul is "heart" so we play all our favourite vibes, switch channels and have the sound of love, romance and peace piping out, sometimes even stopping for a little smooch. Red vases, red tulips, dim the lights, pop fairy lights, tea lights and candles all around. Here's a few little scenes from our home

And for some real magic, a spritz of our beautiful fragrance MY ESSENCE laces you and the atmosphere with a delicious aroma. This clever formula interprets your own personal fragrance, releasing pheromones so makes you attractive to others, sounds good? It is.
LOVE LANGUAGE
This is a fantastic book by Gary Chapman and there's plenty about it on the web, but as a snapshot, learn what your own love language is and that of your mate. Put simply, they are physical, gifts, acts of service, time and words. They may be different for each of you and it's a great tool for communication and improving relationships, even with your children, friends or work colleagues. When Mark and I did ours and I asked him what his were, he said "all of them" ha ha!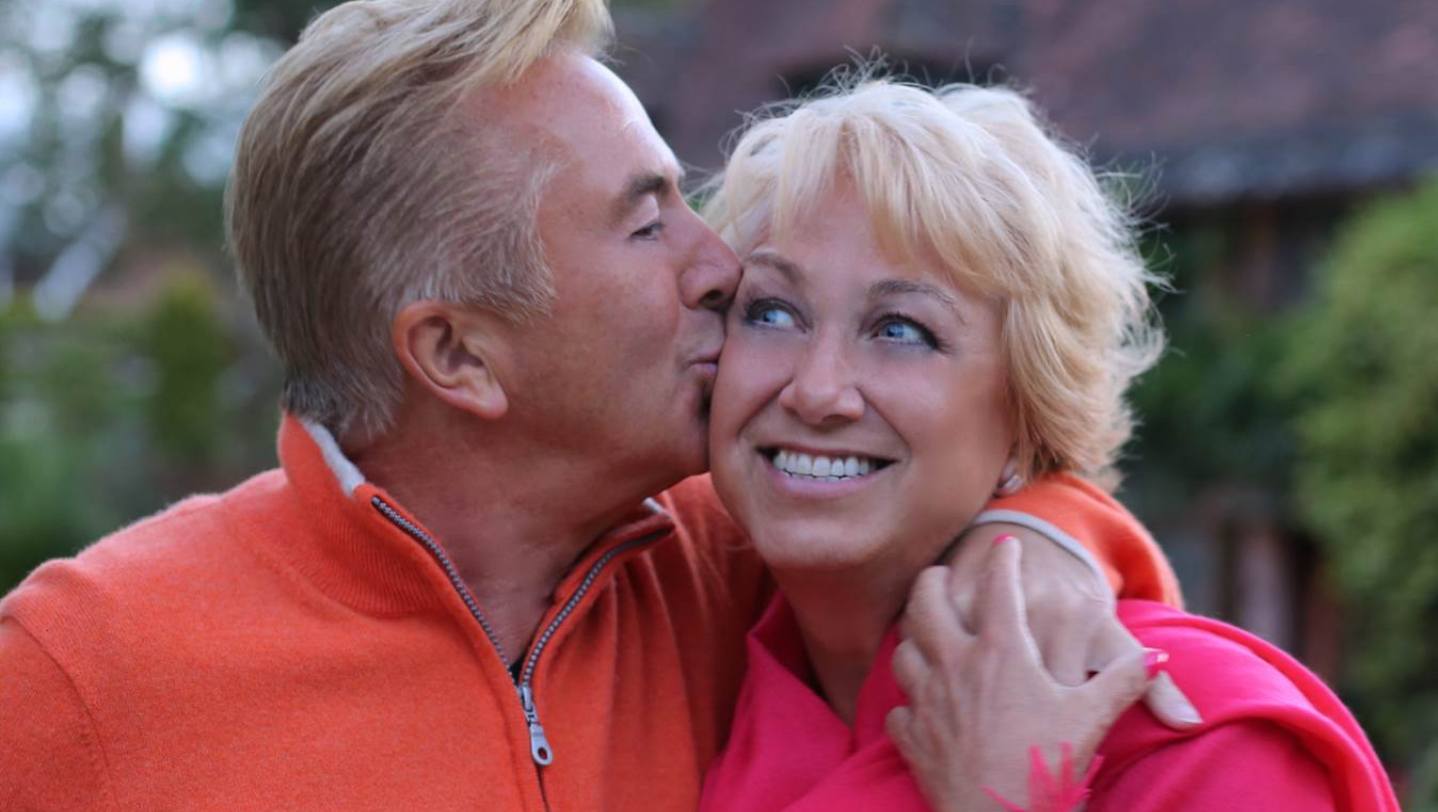 GET CREATIVE
It's easy to get side-tracked by lockdown and think we have to write off Valentines this year. NOT TRUE. Here are some of our favourite ideas, all tried and tested!
Marathon movie weekend – each pick your top five and work through them. Chill out on the sofa, get a grab bag of sweets or pop-corn and ENJOY
Breakfast in bed – why not? It's a Sunday this year so we can all slow down and enjoy our fave lazy breakfast lolling around. We have smoked salmon, bagels & cream cheese with a cheeky flute of Bucks Fizz and we re-watch our wedding DVD or look through the album when we renewed our vows in Cyprus just before we started TEMPLESPA. (Then we 'de-crumb' the bed!!!).
Themed dinner & movie – pick your favourite movie, each play a part and see how many lines you can remember. Pretty Woman is a good one, but without the escargot!
Venture outside – if you have a firepit even better, if you don't, buy some Kilner Jar style solar lights (Amazon have loads), but do get out on the patio, lay rugs on the chairs, pop on your docking station, toast some marshmallows have mugs of hot chocolate and snuggle under a blanket. Go on, live dangerously!
Make supper special – we tend to make life easy and set up our coffee table with candles and everything so we can sit on floor cushions and kick back. A long wooden platter with cheese & charcuterie, tapas & Cava, Antipasti & Prosecco, Champagne & Canapes, just starters & desserts, cupcakes & pink fizz, seafood platter, all pink cocktails (there's loads on the web – alcoholic/alcohol free), heart shaped pizza, chocolate dipped strawberries…we've done them all! We are loving Thomson & Scott Noughty, it's an alcohol free sparkling organic chardonnay and is delicious.
A Spa Date – so you can't get to the spa? Let the spa come to you. This is our speciality in TEMPLESPA. Grab one of our perfect gifts DO NOT DISTURB or SPA RETREAT and re-create a spa in your own space. Download The Repose Suite our beautiful spa sounds album and it will help you get into the mood. Another lovely idea is to indulge in our best-selling bathing & massage oil DRIFT AWAY and give it with a LOVE TOKEN the promise of a bespoke massage!
Download your Love Token – and have fun!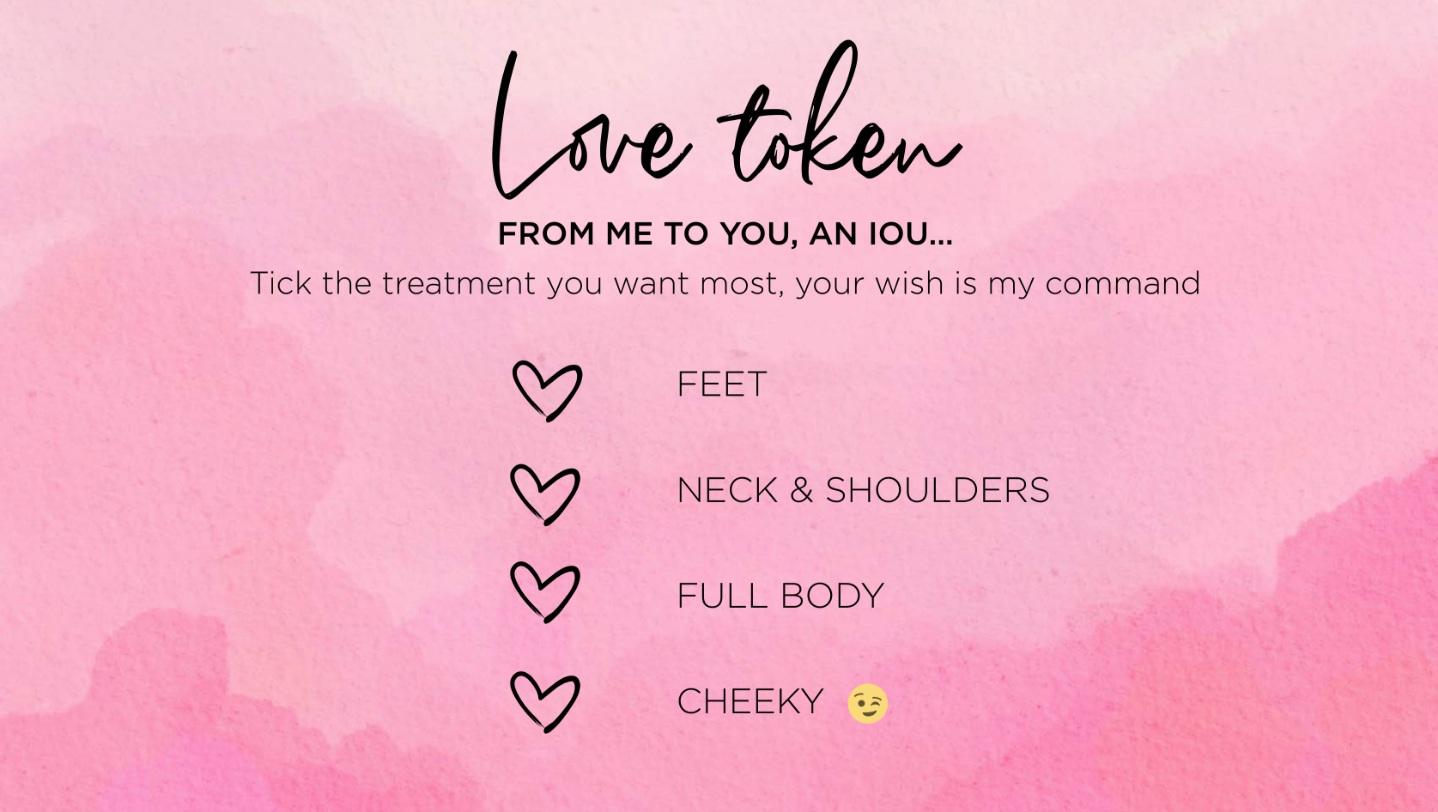 Galantines – what a great idea this is to gather with the gals and celebrate your love of each other. You can cut out love hearts style pieces of pastel coloured card, write the name of each girlfriend and take turns in saying what you love most about that person. Doing this while having a SPA TO GO girlie night in is even better and if you'd like to book one with one of our gorgeous Lifestyle Consultants just click here and we'll fix you up, you'll love it.

Guylentines – Okay, so why can't the boys have some fun too? If you love the Galantines idea but you want to do a boysy version, we can create that too. You bring the boys we bring the toys!
So I hope this has given you some inspiration and I send love to you this month
Liz xx