EASTER
Hmmm…the very word brings a sense of peace and hope. It heralds a season I particularly love of lighter evenings, birdsong, buds and flowers bursting forth in every garden and hedgerow and, of course, the four-day weekend with a nice long time to rejuvenate, reflect, relax and move on from winter.
It's a real celebration of life and brings together all things good for the soul.
For us, in our household, we start with a Good Friday guided 3-hour Easter Meditation, at HTB church in Knightsbridge, a tradition we've followed for many years and it's one of the few times I truly sit still and in silence for this length of time! It's good to find a place of quiet contemplation. This then leads into a food fest with family and friends, good conversation and getting back to nature in the garden and on spring walks, it's a time to rejoice in and be thankful for.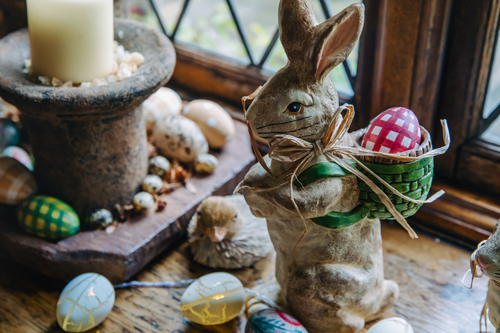 DECORATING
On my travels throughout Europe over the years I have gathered many beautiful Easter decorations and I get excited each time I open the box and pull out all the collectables - painted eggs, chicks and little wooden toys that remind me of the wonderful places I've visited. These get put out on windowsills amongst trailing ivy, hand-crafted pieces hanging from sprigs of catkins, and rustic terracotta pots filled with straw and bunnies. Yellow glass candle holders and lemon gingham ribbon tied around artefacts are an inexpensive way of "Easterising" the house and, if you have little ones, they love to get involved.
Tulips are my absolute favourite flower, so vases are filled with them and jugs of scented herbs along with an Easter wreath on my front door complete the natural theme.
COOKING
Festivities in our home are around cooking and time spent in the kitchen. We open the patio doors, invigorating the house with fresh air and, weather permitting, at least one meal will be taken outdoors around the fire. I always make Delia's Simnel Cake to enjoy with proper pots of tea and eat far too many hot cross buns, a weakness of both of us, served with lashings of Brittany butter with salt crystals. Finally, no Easter Sunday would be complete without beautiful Welsh Lamb.
WALKING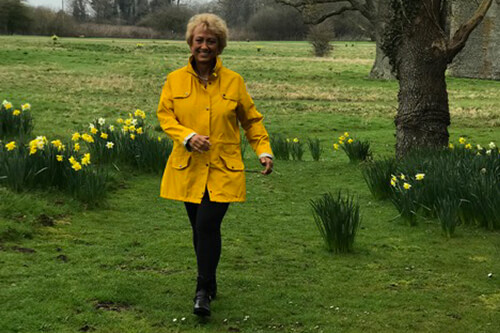 My Easter walk is always such a pleasure, and every spring I make a point of visiting the quintessentially English gardens of Bailiffscourt Hotel and Spa. Starting with crocuses and daffodils, followed by bluebells, hyacinths and tulips they scatter the lawns with glorious colour and Climping beach, a stone's throw from the hotel, offers great walking.
In the early days of Temple Spa, this was a magical spot for me; I would stroll for miles along the coast, clearing my mind, finding a moment of much needed peace in the intensity of building the brand. The beauty and richness of nature is a constant source of inspiration and comfort, even a short stroll helps to boost my mood. Bailiffscourt is a particular joy for me as unbeknown at the time, it would be our launch partner and to this day, remains one of our favourite partners and great friends.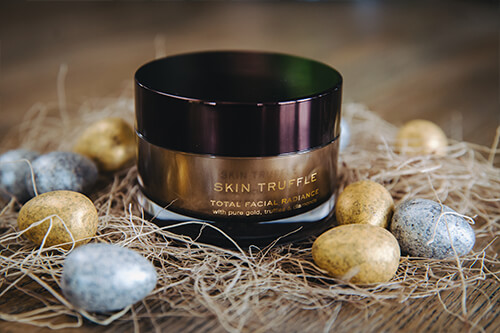 SPRING CLEAN
I love interior styling and often use the build up to Easter to assess my living space. Some light reorganising and decorating is a great way to refresh the home and reenergise me. Starting with a good declutter, I recycle old papers, magazines and pack away my winter accessories. I like to clear the surfaces in my home before I bring in new colour and texture for spring and summer, then I may purchase a new vase or soft furnishing in a vibrant shade to add a pop of colour to my favourite spaces. Over the long weekend, we will roll up our sleeves and take on an overhaul of a garden border, power wash anything in sight and clean out the garage, these tasks always seem to fall on the Easter weekend and are somehow even more purposeful!
So, friends, here are some of my seasonal spring thoughts and I close by wishing you most wonderful days in the run up, during and following this Easter. If you're looking to give or receive chocolate without the calories, remember that our entire Truffle range contains delicious ingredients that are good for your skin without being naughty for your figure!
Enjoy!
Liz