January is here and we all know that a lot of us overindulged during the last couple of weeks. Whether it was having that extra mince pie with a cuppa in the evenings, to dipping your hand into the box of chocolates or whether you sat back after a roast and thought to yourself "yea, that was one too many roast potatoes for my liking!".
We have all been there, we have all felt a little sluggish after a good feed and especially when the drinks are flowing, the party food is out and temptation surrounds us, getting through the festive season can be a bit of a challenge.
It is no wonder why gym subscriptions sky rocket as soon as January comes around, the whole "New Year, New You" ethos is omnipresent. Here at TEMPLESPA we are firm believers in looking after your body and your skin, after all, we are true to our words...
"your body is a living temple, honour it, enjoy your life and live it to the full"
So with this in mind, we have put together a two week detox which was commissioned by us from Dr Simone Laubscher. This plan gives you a full breakdown of what to eat and drink over the next fortnight. Some of us in the office will be taking part ourselves and discussing the progress we made from how we felt through to what we enjoyed about it.
The two week detox is a fantastic way to kick start your new year resolution and cleanse your body. The trick is not to fear the healthier options available because they can be just as satisfying and enjoyable as some of the other foods that you have eaten over the last couple of weeks.
One thing we also suggest doing is drinking plenty of water. We recommend drinking at least 8 glasses of the clear stuff daily which can benefit your mood, fatigue (great when exercising) your digestive system and aids in flushing toxins from the body. If drinking this much water is a challenge, try flavouring with a little fruit juice or fresh fruit to make it more tolerable. You might find that this little trick helps you clear the recommended 2 litres a day with no problem.
Exercise is a fantastic way to help contribute to a detox and whilst raising the heart rate is good for the body, getting out and about is also great for our wellbeing. If hitting the gym is a little daunting and you feel walking into a packed room with little to no experience on some of the machines inside, then we suggest the walk/jog/run approach. A long walk along the beach or in the countryside is great for the lungs, breathing in some fresh air will certainly make you feel more invigorated. If you are a little more athletic or feeling a bit adventurous then try jogging or running. If exercise isn't your thing then try to adjust some of the everyday activities in your life such as taking the stairs to the office instead of the lift, walking the long way home if light permits or performing a few squats whilst the kettle boils. It all helps!
So without further ado, please see below the two week detox in all its glory and see the additional notes for those that would like to replace certain foods and drinks due to allergies or dislikes.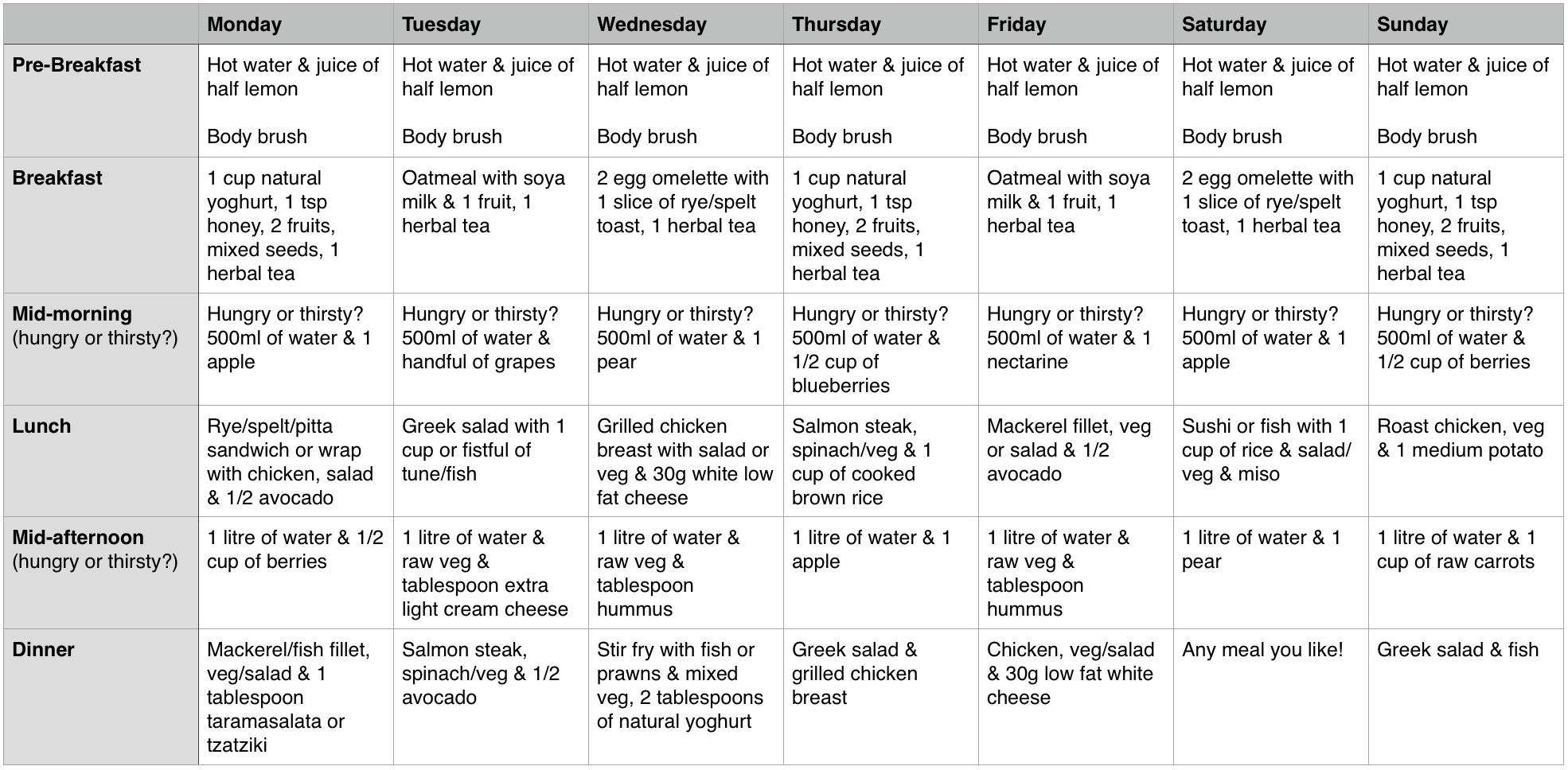 Additional notes…
- No regular tea, coffee or alcohol. Strictly still or sparkling water but this can be flavoured with a splash of fruit juice or fresh fruit as desired. We recommend at least 2 litres per day!
- Drink herbal and green tea as often as you like, this helps immensely with the detox plan.
- Always have a protein packed lunch and dinner to help towards reducing cravings.
- Grill, steam or bake all meat based meals if required.
- Eat snacks ONLY if you are hungry. You might find it useful to have a glass of water if you begin to think you are hungry as often hunger is mistaken for thirst.
- Use olive oil and lemon juice or apple cider vinegar to dress your salads and leaves.
- Where possible, add garlic, ginger, chilli, herbs and spice to accelerate the detox.
- If you can, try to incorporate some exercise in the form of walking, jogging or running if you feel up to it, this will help contribute to your goals.