It's coming to that time of the year where adding SPF into our daily body care routine is essential and sometimes we might need reminding what SPF we need, what it stands for and where to find the best moisturiser with SPF on the market. All we need now is the sunshine to pair it with!
What does SPF stand for?
It stands for Sun Protection Factor and is usually followed by a number e.g. SPF50, SPF30. It provides a measurement for how long a sun protection product will protect the skin from the harmful sun rays (more on these later!) The number represents how long you should be able to stay in the sun without the risk of sunburn. And it's always important to remember regular applications when in the sunlight and not to mention daily application all year round.
What are the differences between UVA and UVB rays?
These are the two main types of UV light of which your SPF will protect you from and are emitted from the sun. The easiest way to remember what damage these rays do to your skin is UVA = ageing, UVB = burning, and each ray works to damage the skin on different levels. UVA rays reach towards the deeper layers of the skin to contribute to fine lines and wrinkles, whereas UVB rays cause damage to the DNA in skin cells and are widely recognised as a contributor to most skin cancers and hyperpigmentation.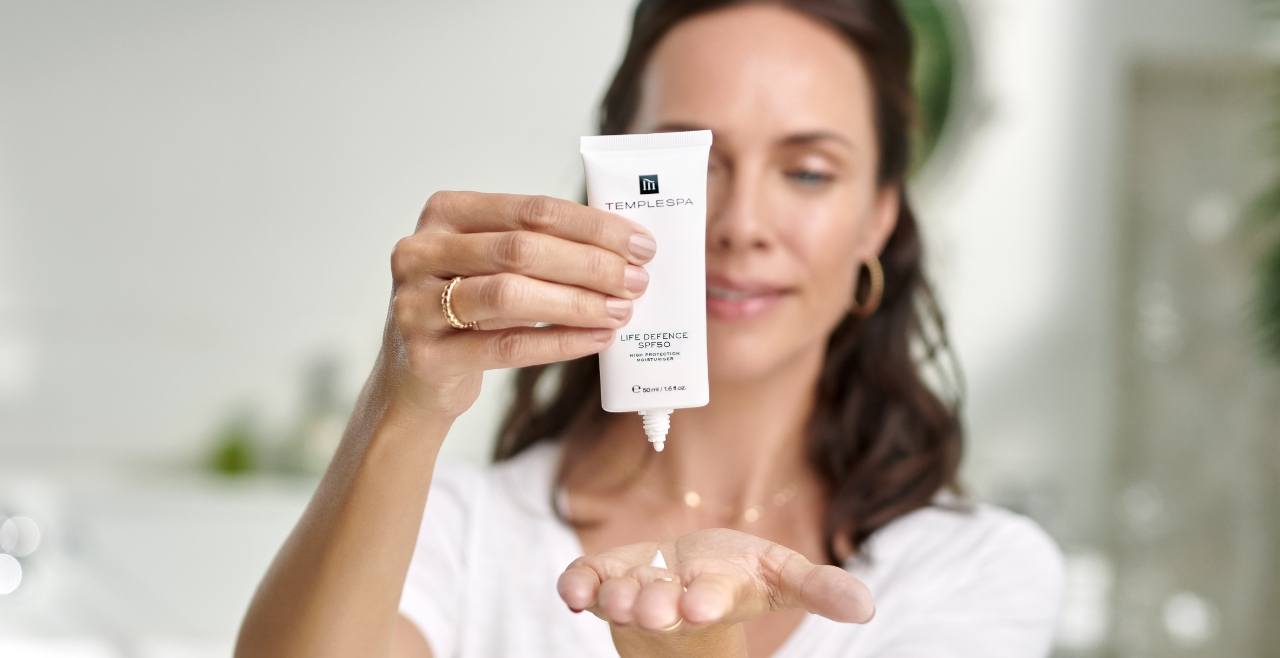 What's the best moisturiser with SPF?
We'd recommend our LIFE DEFENCE SPF50 or SPF30 as they are super hydrating and can be used instead or as well as your regular moisturiser! What you need to look for when choosing a face moisturiser with SPF is a broad-spectrum label, which means it is effective against both UVA and UVB rays, along with a high SPF value. You'll need to apply your SPF moisturiser daily, even if the sun isn't visible, it doesn't mean the sun's rays can't reach through the clouds to penetrate your skin.
And if you're looking for a non-greasy sunscreen then you're in luck! Both our LIFE DEFENCE SPFs feature sodium hyaluronate which is the salt from hyaluronic acid that make it super hydrating without the heavy greasy cream feel we often associate with sun protection.
What about SPF sunscreen for acne prone or sensitive skin?
You'll find an ingredient called cica in our LIFE DEFENCE SPF moisturisers and it's a rich antioxidant to bring hydration and soothing benefits to the skin's barrier, so perfect for sensitive and acne prone skin. The lightweight and non-greasy texture means it avoids clogging and leaving a shiny residue on the skin too, no more white cast either!