Having more sustainable Christmas celebrations has become more and more important each year, the leftover wrapping and mountains of boxes and packaging is enough to send anyone into a spiral! At TEMPLESPA we've thought carefully about our sustainable Christmas gift ideas and how you can have an eco-friendly festive season this year.
Plastic free gift boxes
We've eliminated all plastic from our gift boxes without compromising on the experience (and joy) you get from opening a TEMPLESPA gift. This makes your gift even more sustainable this Christmas by not creating virgin plastic to end up in landfill.
Reduced size of boxes
While a bigger box may mean a big gift, our luxury spa gifts don't follow the same rule. Still our wonderful products to 'spa wherever you are' with but in a more compact size, so you can enjoy your gift without extra wasted material.
Card and paper from a sustainable source
Like many of our boxes and packaging, you'll find we pick our materials from a sustainable source which is certified by the Forest Stewardship Council. This means the materials used are harvested responsibly and helps protect the habitats of plant and animal species, as well as supporting community rights and fair wage and work environments.
100% transparency
You'll also spot on our sustainable gifts lots of useful information about how to recycle your gifts once you're finished with them. We've highlighted what is fully recyclable from our products and what isn't (yet) – there's plenty of recycling news to be coming!
We hope to encourage our lovely shoppers to skip the wrapping paper this year and opt for adding a gorgeous tag to adorn your TEMPLESPA gifts, as the boxes and packaging are already dressed for the season in our beautiful 'Moments Of Wonder' imagery. We've teamed up with photographer Bruce Boyd who suspends flowers and other botanicals in ice and photographs them when dropped into water, fracturing and creating new bubbles and styles to photograph!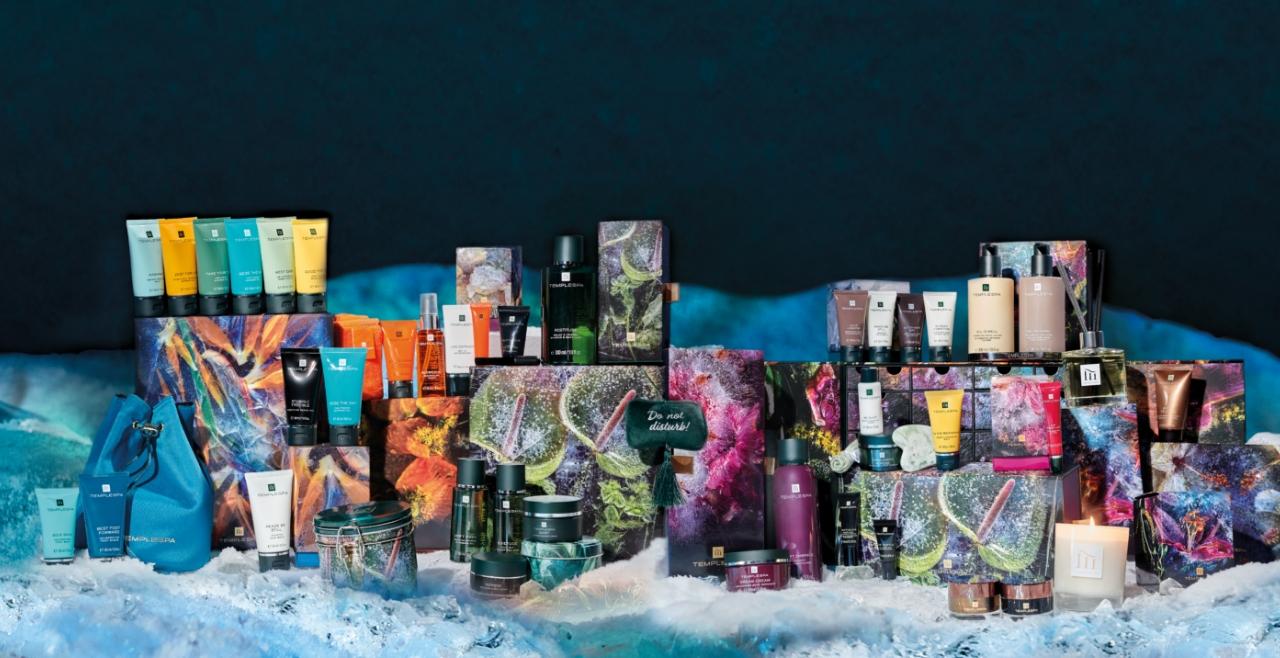 Sustainable Christmas gift ideas
LIP THIRST AID Nourishing Lip Oil
This is a wonderful sustainable gift for her, our deeply hydrating lip oil with a berry tint. We've included 7 natural oils including jojoba, sweet cherry, grape and pomegranate for instant lip nourishment. The non-sticky finish creates the most kissable lips under the mistletoe. Plus, the beautiful box opens up in a fan-like style to lay completely flat, making it super easy to recycle.
HAND ON HEART Luxury Hand Care Set
A great way to have a sustainable Christmas is with our HAND ON HEART Luxury Hand Care Set, a great sustainable gift idea or one to purchase for yourself! It includes our iconic hand duo ALL IN HAND Cleansing Hand Wash and ALL IS WELL Hydrating Hand Lotion nestled on a stunning stainless-steel tray. Guests can enjoy a nourishing cleanse from our refreshing hand wash, followed by an instant injection of hydration with our lightweight lotion.
SIESTA FOREVER Relaxing Aromatic Candle
Another great gift or way to have a sustainable Christmas is with our much-loved SIESTA FOREVER. A soothing infusion of essential oils like lavender, petitgrain, geranium and frankincense to name but a few, filling your space with chilled-out calm vibes. We call it bringing the spa to your home! Our packaging is 100% recyclable and our glass candle makes a great container for plants, cotton pads, makeup brushes, pens, you name it…
TIME TO RESET Total Facial Wind-Down
This beautiful sustainable gift idea is perfect for someone who's always on the go, loves their skincare and deserves that 'me-time' treat. TIME TO RESET is a total ritual for your face, helping remove makeup and settle your skin from a busy day. With the addition of a jade Gua Sha stone and handy video to demonstrate the best way to use it! Your stone and cleansing cloth are reusable, just make sure you keep them clean.