Sometimes we can all be guilty of not taking enough care and attention on our body care as much as we do our skin care. And keeping on top of your body exfoliation will not only leave you with smooth and soft results, but it'll provide better absorption for the rest of your body care! Do we have your attention now? Let's get into the best exfoliator for the legs.
What a good exfoliant for the legs will do is help encourage new cell turnover by removing dead skin cells and allowing new fresh ones to push through and banish dull-looking skin.
We'll take you through a few different methods of how to exfoliate your legs and the best recommended products for the job!
A physical sugar scrub
This is the heavy-duty scrubs in the body care world! They do a deep exfoliation of the legs to lift away dead skin cells and encourage cell renewal for silky smooth skin. A little goes a long way with sugar scrubs too, take a small amount and massage into the skin in circular motions.
TEMPLESPA recommends…
SUGAR BUFF Smoothing Body Scrub, £25
Our recently re-vamped sugar scrub just got a new larger size and recyclable packaging too! Our Mediterranean inspired sugar scrub has a skin-boosting blend of hydrating olive and grapeseed oil, fig, pomegranate, vitamin E plus a relaxing cocktail of essential oils. Not only is this scrub deeply exfoliating for your skin but it leaves it wonderfully soft, smooth and fragrant.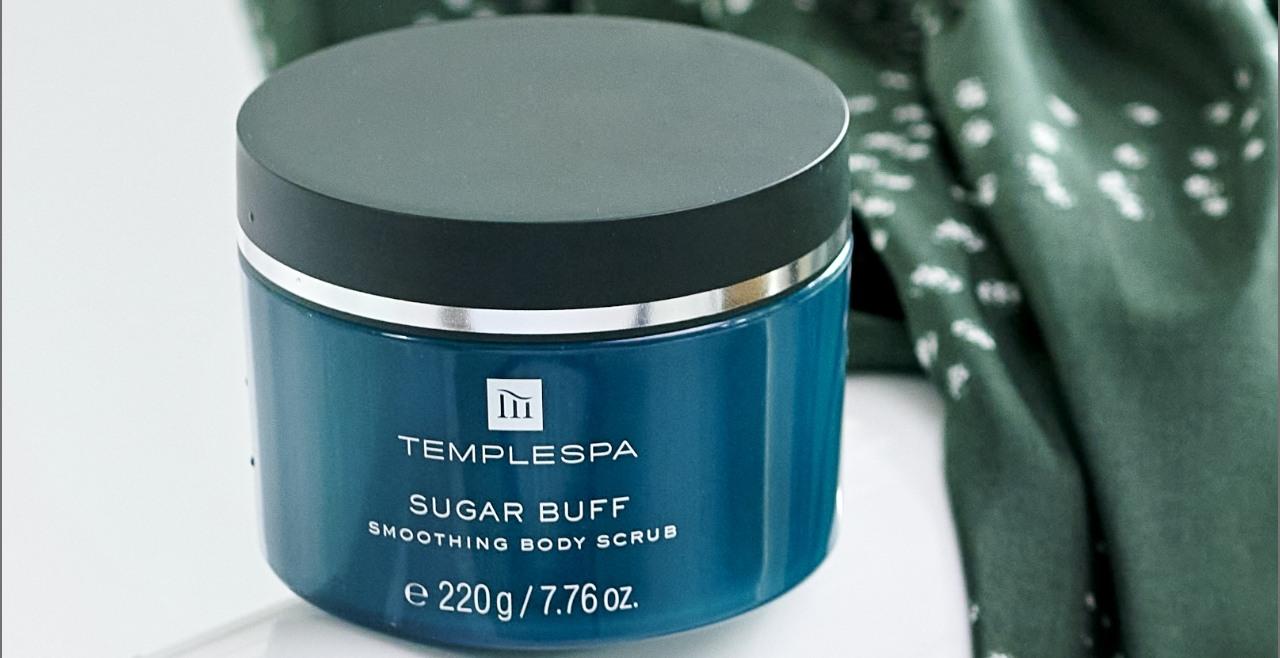 A gel scrub
A softer version than the sugar scrub, this gel-scrub hybrid gives the cooling and smooth ease of a gel but the extra exfoliating benefits your skin will love. These scrubs are great options for more regular exfoliation as they're not as harsh on the skin but will still give you that instant result.
TEMPLESPA recommends…
IT'S A WONDERFUL LIFE Energising Shower Scrub, £15
Described as a zesty shower scrub to add some zing to your morning, we've included melting jojoba beads and walnut shell for a gentle and effective exfoliating action, leaving skin buffed and polished! Alongside fresh Mediterranean essential oils of grapefruit, bergamot, ginger, lemon tea tree and water mint for a super wake up call to dull-looking skin.
Dry body brushing
This ancient technique is brilliant for not only exfoliating your legs and all over your body, but has health benefits for your lymphatic drainage system. Catch up with our blog How can lymphatic drainage massage and body brushing help me (Link: https://www.templespa.com/blog/how-can-lymphatic-drainage-massage-and-body-brushing-help-me/) for all the details! How to quickly dry body brush your body is to use a specifically designed brush in short swift motions along each limb on dry skin, in the direction of your heart before getting in the shower.
TEMPLESPA recommends…
GIVING IT THE BRUSH OFF Detoxing Dry Body Brush, £18
The synthetic bristles are set in a FSC-certified wooden base with a fabric handle to easily slip your hand into. Simply do the short swift motions along each lip to help with your body's natural detoxification process, eliminate dead skin cells and improve skin tone, feel and texture in one!