You already have your skincare routine nailed down to a fine art, but what about a cleansing brush? In various sizes, shapes and styles, silicone face brushes have exploded onto the skincare market in recent years and become a staple rather than an optional in routines.
Let's start with what a cleansing brush can help with in your skincare routine.
Why do I need a cleansing brush?
The first benefit is that they make your cleanser go further, no longer are we massaging our luxe cleanser in for a few moments to wash it away! Take your cleansing brush and move your cleanser around your face before massaging it in, take a timer and see if you can cleanse for one minute at least! The clever silicone facial cleansing brushes available really help to reach the pores and clear out what we no longer want there. In the TEMPLESPA collection we have CLEAN UP YOUR ACT Sonic Wave Cleansing Brush which aids in removing 99.5% of dirt, makeup, impurities and excess oil!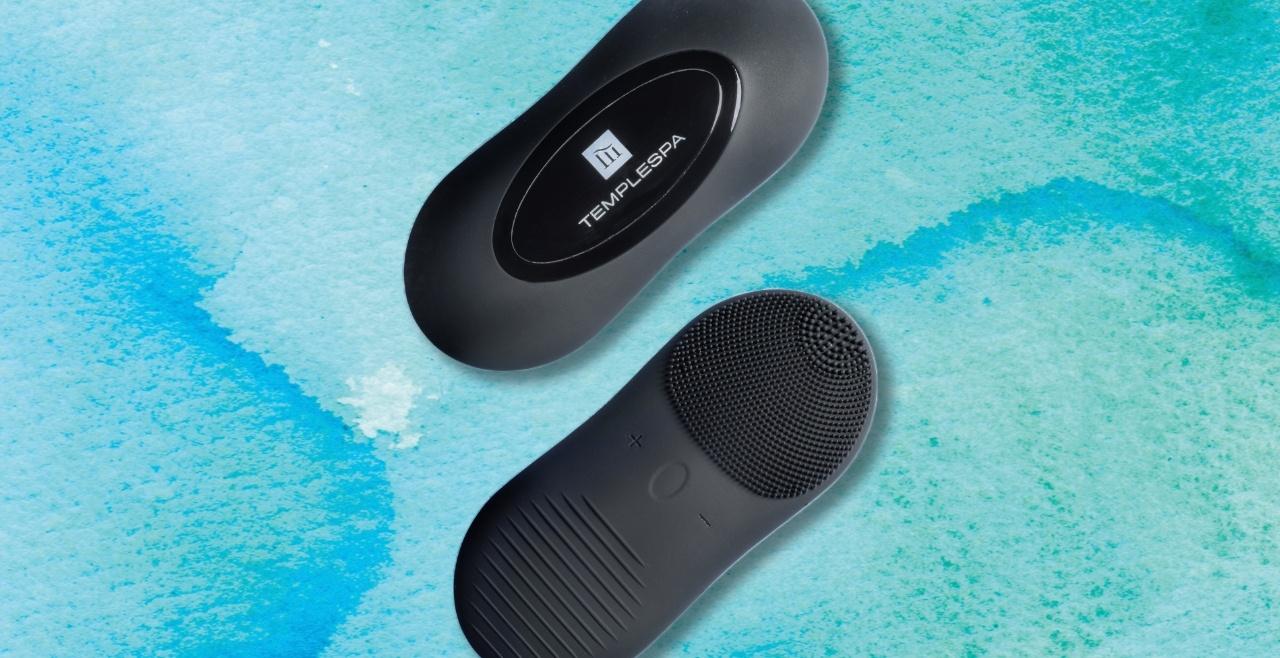 As well as making your cleanser work harder for you, a cleansing brush will help to brighten and clear congested complexions! The important thing to note here is to stay consistent with yours, keep a regular routine of using it daily with your evening cleanse to see great results. By deeply cleaning the skin this will also allow your next steps of serum, eye treatment and moisturiser to work their magic on the skin more effectively!
If you choose a facial exfoliator brush then you're adding in the addition action of gently exfoliating the skin, lifting away those dead skin cells and revealing a smoother and radiant face. We love a cleansing brush with has the additional function of a facial massage, like our CLEAN UP YOUR ACT which sends sonic waves or pulses on the surface of the skin. This action also works to encourage cell regeneration and diminish the appearance of fine lines and wrinkles for firmer looking skin!
Can I use a facial cleansing brush every day?
It's by your skin type, but yes you can! If you're a little on the sensitive side then building a cleansing brush into your skincare routine twice or three times a week may be best for you. If you'd like to use it every day start by adding a silicone facial cleansing brush to your evening routine as your first cleanse of the two, really work the cleanser and brush into your skin to see the results.
Don't forget to wash your cleansing brush each time with warm soapy water!
What's the best facial cleansing brush?
Our go-to is the CLEAN UP YOUR ACT Sonic Wave Cleansing Brush for a good dose of cleansing and massaging for our skin. It delivers 8000 sonic pulsations per minute that do all the work for you, simply apply your cleanser and let it get to work for brighter, softer and glowing skin! Its sleek ergonomic design fits comfortably in your hands and the silicone bristles stay soft but firm for the best skin benefits.