Exfoliating is a key step in any skincare routine, but why? We're going to share how often you should exfoliate your skin, which TEMPLESPA products are the best face exfoliators and just how you can achieve glowing healthy skin. Let's get into it!
Why do I need to exfoliate my skin?
Your skin is constantly renewing itself, producing new skin cells in the deeper layers of your skin to work their way to the top layers of your skin. You'll find dead skin cells sit on the top of your skin and if you didn't exfoliate, your newer skin cells wouldn't be able to push through.
It's the process of clearing away those dead skin cells to make way for the newer, leaving skin fresh and radiant! If you leave your skin without exfoliating then your complexion can appear dull and tired and can affect efficiency the rest of your skincare routine too.
What is a face exfoliator?
You'll find there are two common types of face exfoliator: chemical and physical. The physical exfoliants are the scrubs with pieces, cloths and cleansing brushes – think of it as the physical act of sloughing off those dead skin cells!
A chemical exfoliant for the face are based on enzymes or acids, these are clever formulas that encourage dead skin cells to unlink from the skin, where they're holding onto to release. If your skin is on the sensitive side, you may prefer chemical over physical exfoliators, and don't worry the word 'chemical' might seem daunting for sensitive skin but choose the right gentle acids and your skin can enjoy exfoliating too.
How often should I exfoliate my face?
You'll see us talk about the pillars of any skincare routine: cleanse, tone and moisturise, so where does exfoliating fit it? You should exfoliate between your cleanser and toner and we wouldn't recommend every day to begin with.
Our skin varies by skin types and concerns so what exfoliator may work for you doesn't work for others. We'd advise going with a gentle exfoliator and only a few times per week, depending on your skin type. Keep checking in with your skin's response to exfoliating, anything irritant should be discontinued immediately otherwise trying using your chosen product for 28 days to see the results.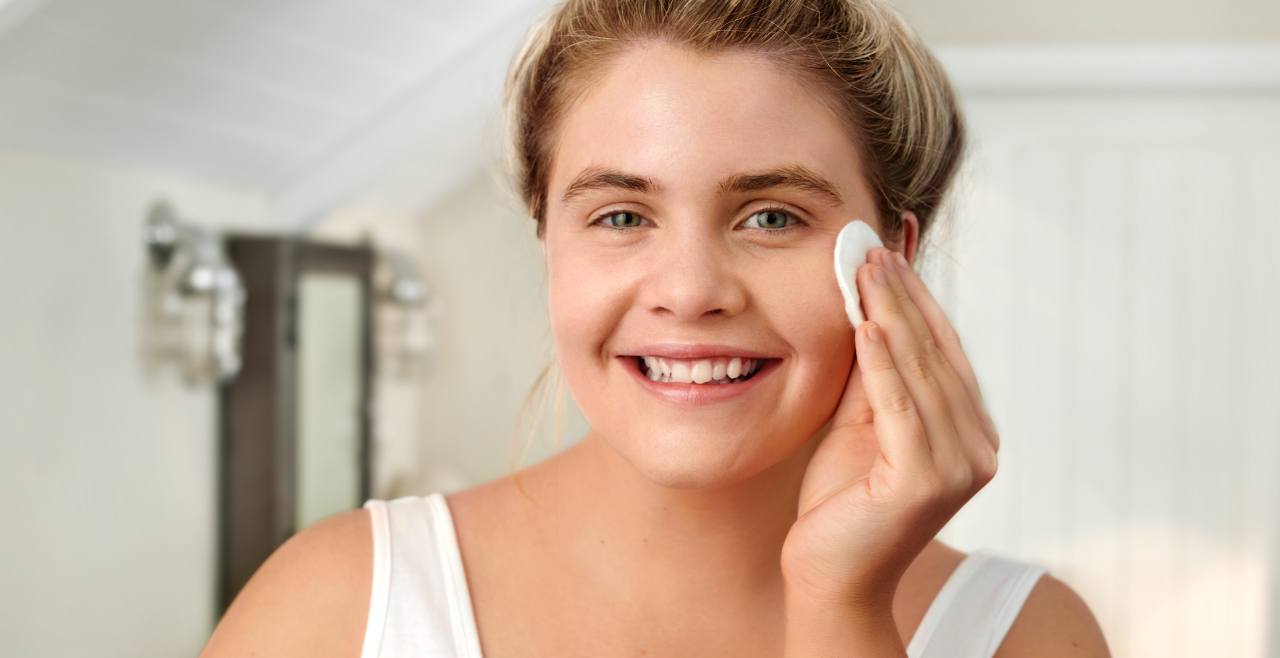 Which are the best face exfoliators from TEMPLESPA?
We thought you'd never ask! Below is a selection of exfoliators across the different types, the best exfoliator for which skin types and how they can fit into your skincare routine.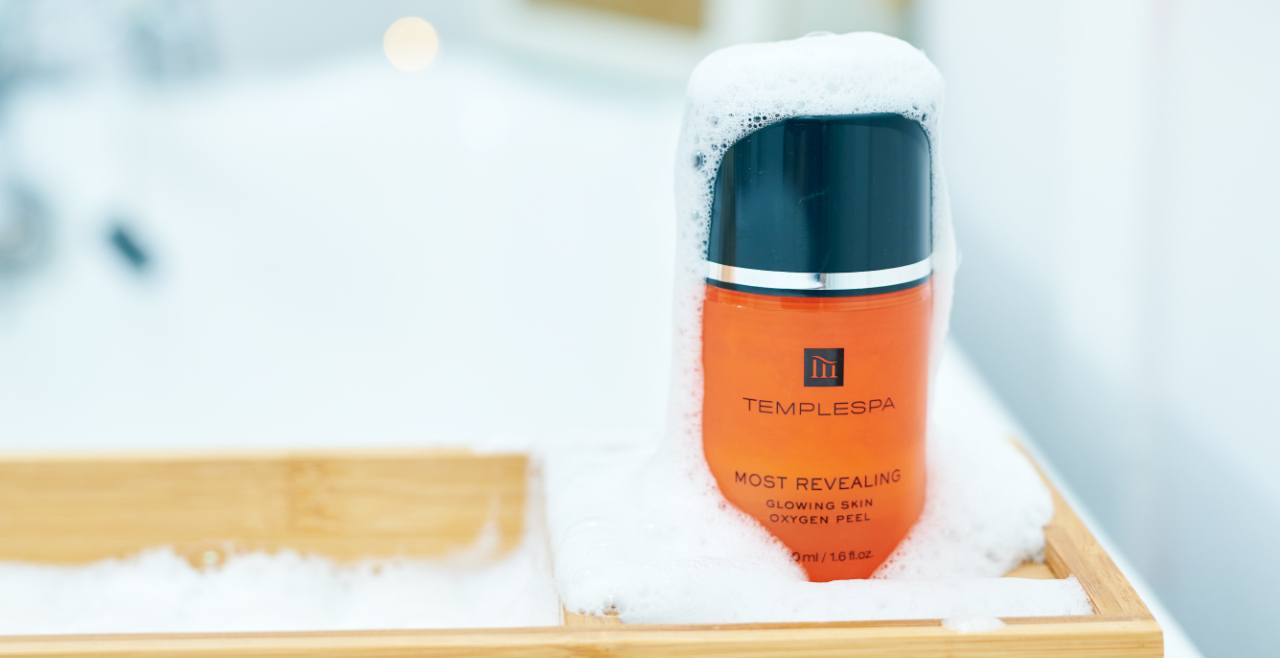 MOST REVEALING Glowing Skin Oxygen Peel, £40
The newest face exfoliator at TEMPLESPA and one which 86% of our user trial (based on a panel size of 101) said their skin felt smoother after one use. Sounds promising! This is our hero chemical exfoliator that provides a deep treatment once or twice a week. We've added AHAs glycolic, mandelic, malic and lactic acids to work on lifting away dead skin cells, whilst Mediterranean oils and botanical extracts soothe the skin. Check out the fun bubbling action! Learn more about our Glowing Skin Oxygen Peel on our blog.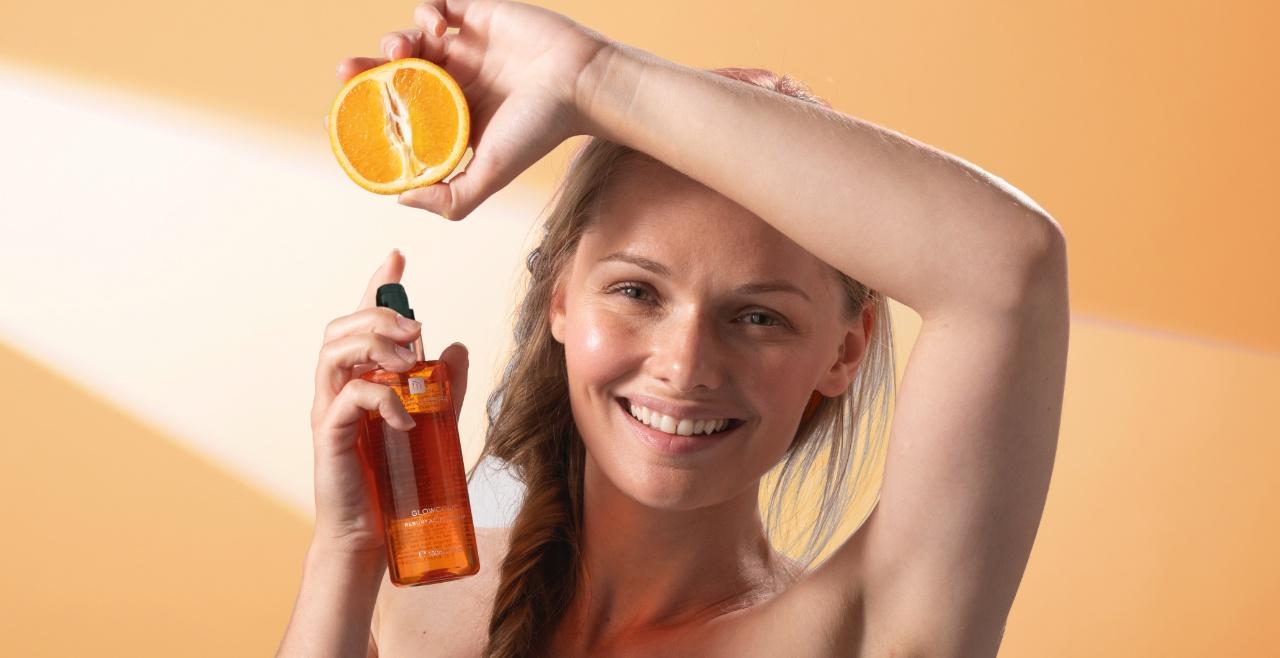 GLOWCOLIC Resurfacing Toner, £20
The exfoliating toner sister to MOST REVEALING, our clever formula uses AHAs glycolic, mandelic and lactic acids to break the bonds which dead skin cells are connected to the skin with, to lift them clean away. A super gentle exfoliating formula that can be added easily to your skin a few times per week, a great exfoliator for sensitive skin.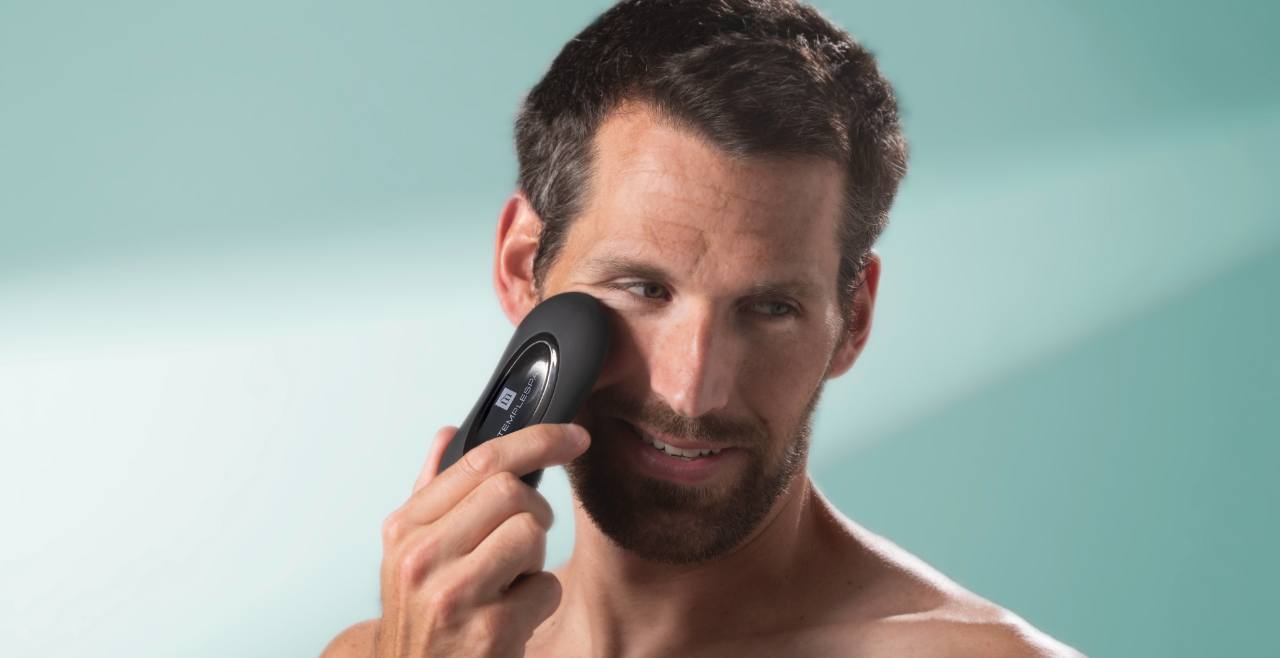 CLEAN UP YOUR ACT Sonic Wave Cleansing Brush, £50
Onto the physical side of exfoliation, a silicone cleansing brush not only helps your cleanser to move around your face but provides that extra exfoliation too. Our cleansing brush delivers 8000 sonic pulsations per minute and allows you to tailor the strength to your skin! Discover How To Use A Cleansing Brush and what amazing benefits you can get for your skin.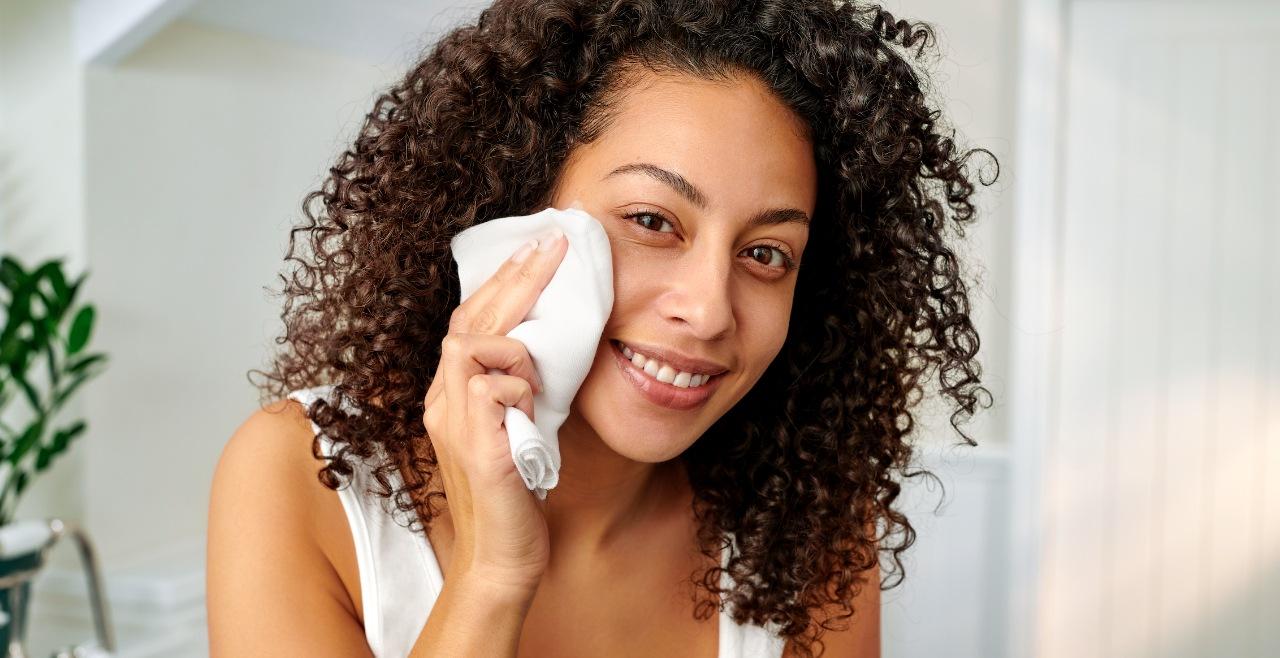 TAKE IT OFF Muslin Cleansing Cloth, £5 for two
Go for that extra polishing exfoliating action with a muslin cloth, a classic option to remove your cleanser, make up and such from the day. Simply run it under warm water, wring it out and then use a circular motion to 'polish' off your cleanser.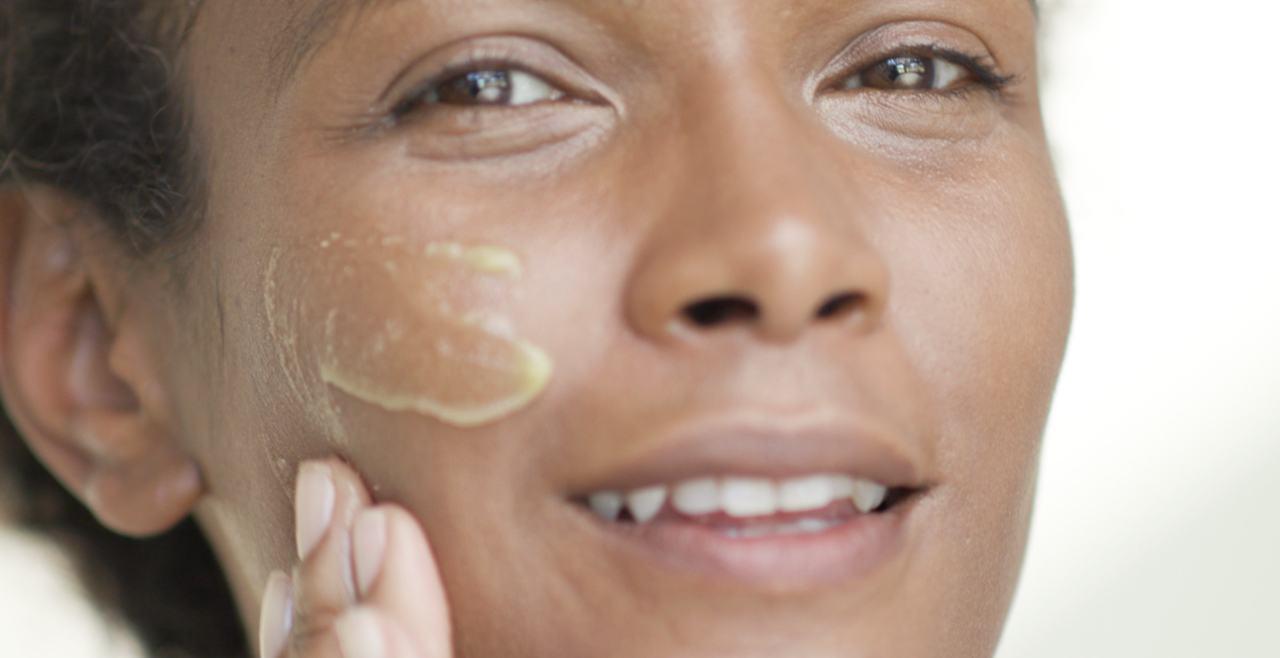 IN THE BEGINNING Deep Cleansing Melt, £32
Merging cleansing and exfoliating in one, this is a great option to unclog pores, remove dead skin cells and leave skin feeling and looking hydrated and brighter in one. Our award-winning exfoliating cleanser has a unique buttery crystalline texture that melts as you massage it in.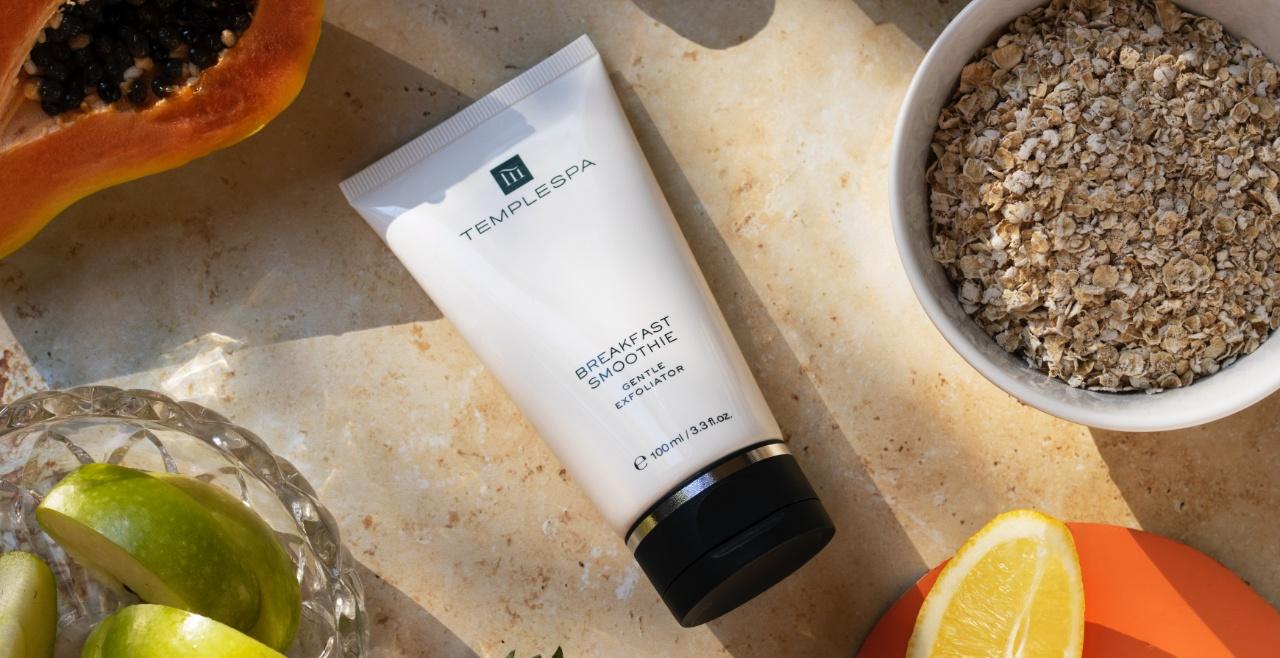 BREAKFAST SMOOTHIE Gentle Exfoliator, £30
A great way to quickly achieve that glowing-facial look is with our BREAKFAST SMOOTHIE. A creamy exfoliator that's both chemical and physical as the oats gently polish away uneven skin texture and hydrate, while fruit extracts like papaya, apple, pear and strawberry act as AHAs to nibble away at dead skin cells. Great for a few times a week or a daily morning cleanse for skin that's adjusted to exfoliating.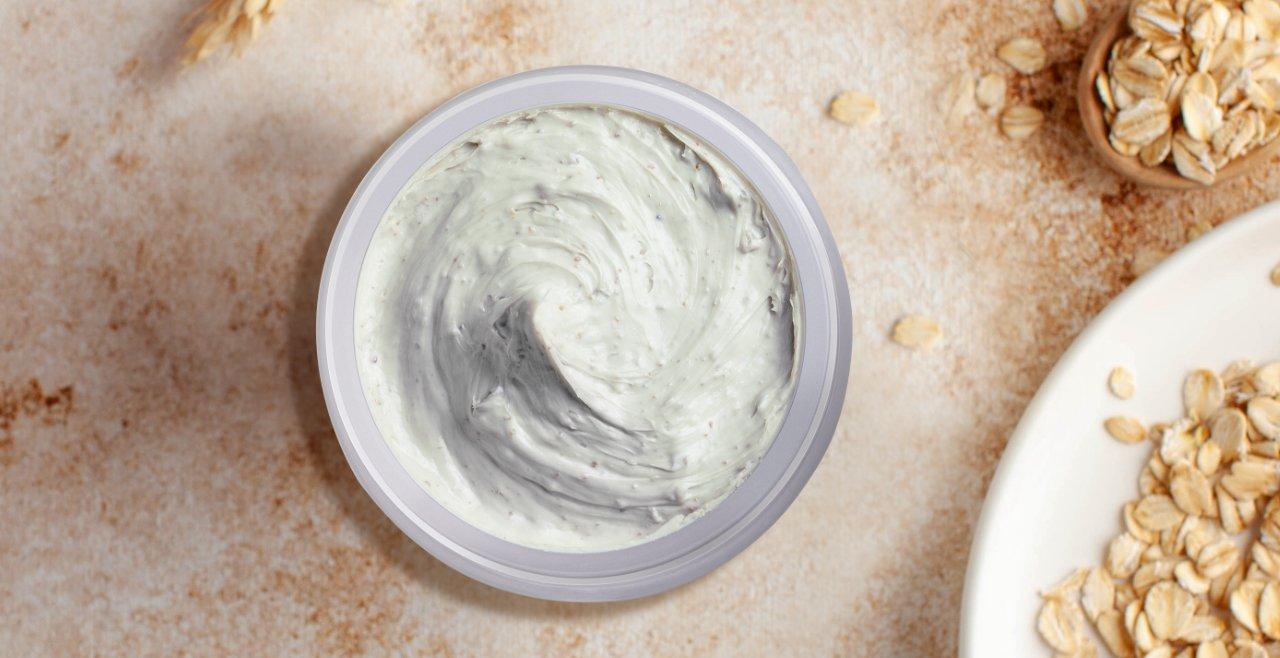 THE POWER BREAKFAST Nutritious Scrub & Mask In One, £30
This is the big brother of BREAKFAST SMOOTHIE, a super charged medley of fruits (your AHAs again!) walnut shell powder and oats to deeply exfoliate the skin. THE POWER BREAKFAST is TEMPLESPA'S best exfoliating scrub that doubles up as a deep cleansing mask too. For dull skin that needs rebalancing and decongesting, this hardworking exfoliator gets to work fast!
And there you have it, everything you need to know about how to exfoliate your face, the best face exfoliators and the glowing results you can get.