Dear friends
Welcome to the beautiful month of July, the epitome of 'Britishness'. Croquet, Pimms on the lawn, Wimbledon, outdoor picnics, evening bike rides, strawberries & cream, paddling in the sea, fruit picking and barbecuing EVERYTHING in sight!
We always had our family vacations in July and to this day, even though I live near the beach, anytime I see sand and breathe in the salty sea air I am transported to my childhood and wonderful holidays in Norfolk.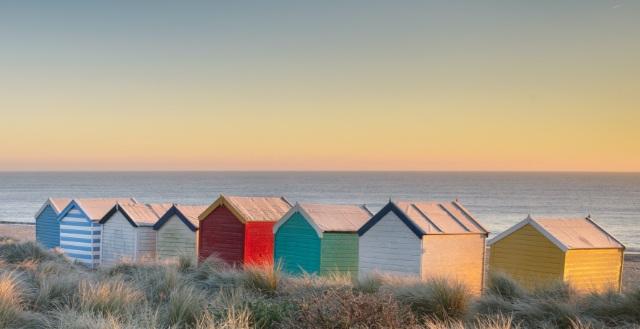 Life was so simple in those days; the BIG family treat was a beach hut for two weeks – joy. I can still smell the rubber of swimming hats and feet jellies as they dried off. Each evening we were allowed one more 'treat' spaced out over the fortnight (so not to spoil us) that might be a game of putting, the Cromer Pier Extravaganza, fish & chips or a Mr Whippy as we walked on the promenade sporting our special holiday clothes, usually cream or white! Uncles, Aunts and Cousins came from all over the country and about 30 of us set up temporary residence in a block of holiday flats, we thought we were dead posh, and I treasure those precious memories.
Many of us are responsible for the 'little people' we are bringing up and guarding or perhaps other loved ones in our care, or maybe work colleagues in our sphere of influence and one of the important things to remember as we all face these challenging times is to not WAIT for better days, better news, or clarity over a 'clear road-map' but to create beautiful, positive memories as we journey through.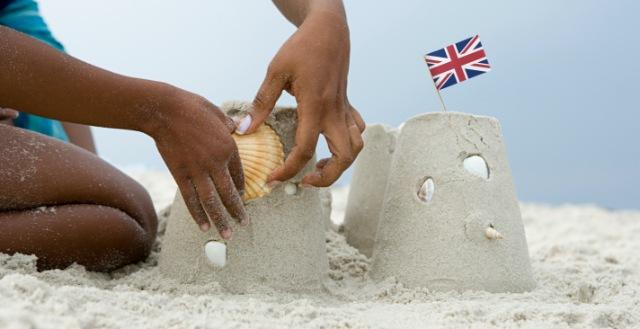 If you think about it philosophically, we will never have July 2021 ever again; so, although we had hoped for a sooner un-lockdown, or better weather, or more future visibility, or whatever might be your present concern, TODAY is a gift and as we together reflect on past nostalgia, we must also consider those memories were undoubtedly created when parents or others were equally managing trials. It might have been a war, or an issue of health, finances, relationships, the stuff true life is made of.
One of the most common things I've heard people talking about during these past eighteen months has been the virtue of de-cluttering, pairing back and appreciating the simpler things in life. It's funny that when you ask your kids to recall favourite memories, you frequently hear things like 'when we all crammed in a caravan and heard the rain on the roof' 'when dad dug a hole in the sand, built a fire and we toasted marshmallows' 'when we made bows & arrows from branches' and so on.
So, wherever you find yourself this month whether home or away, let it be a magical time of creating some new memories and with this in mind, I think you're going to LOVE LOVE LOVE our new product launch – a brilliant multi-tasking duo called TASK FORCE comprising All Together Now and All in All.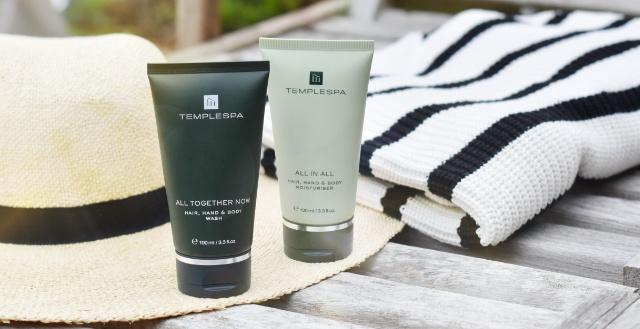 Well to be completely honest, it's actually a re-launch, but in fabulous new clothing and it totally speaks to the season. When you want to simplify and travel light, this perfect pair are designed to give you a total-toiletries-routine with just two products. With matching 'spalicious' fragrances, All Together Now will wash your hair, hands, body and even clothes, whilst All in All will condition your hair and moisturise your face & body and even better news is if you are lucky enough to be venturing abroad and want to do hand luggage only, they are 100mls each, so tuck them in your backpack and you're ready to go!
Have a wonderful month and remember to share your photos with us. Send us your most memorable holiday photos and you can win one of three sets of our new THE MULTI-TASKING FORCE. Tag us on Twitter @templespa or Instagram @templespa by 31st July at midnight to win.
With love, Liz xx