Welcome to the beautiful month of November. The clocks have changed, the nights are drawing in, so we adjust our minds and bodies to all things warm and cozy and embrace this month of a delicious autumn-winter fusion.
I mentioned last month that our house has been decorated in all things golden and amber, wardrobes have been winterized, our trusty Barbour's have been waxed and my darling husband polished up all our boots in readiness for the new season. We're so ready for this!
I love to enjoy December as much as possible and this year (please God) we're all going to physically be with friends and family, maybe even inviting over some new peeps…something we'll never take for granted ever again. So, with this in mind, I've set myself a target by the end of November to get our presents wrapped, posted if abroad, and certainly in bags ready to give out as we see people. It means we choose, shop, wrap and decorate with joy, rather than irritability, which slightly negates the spirit of giving!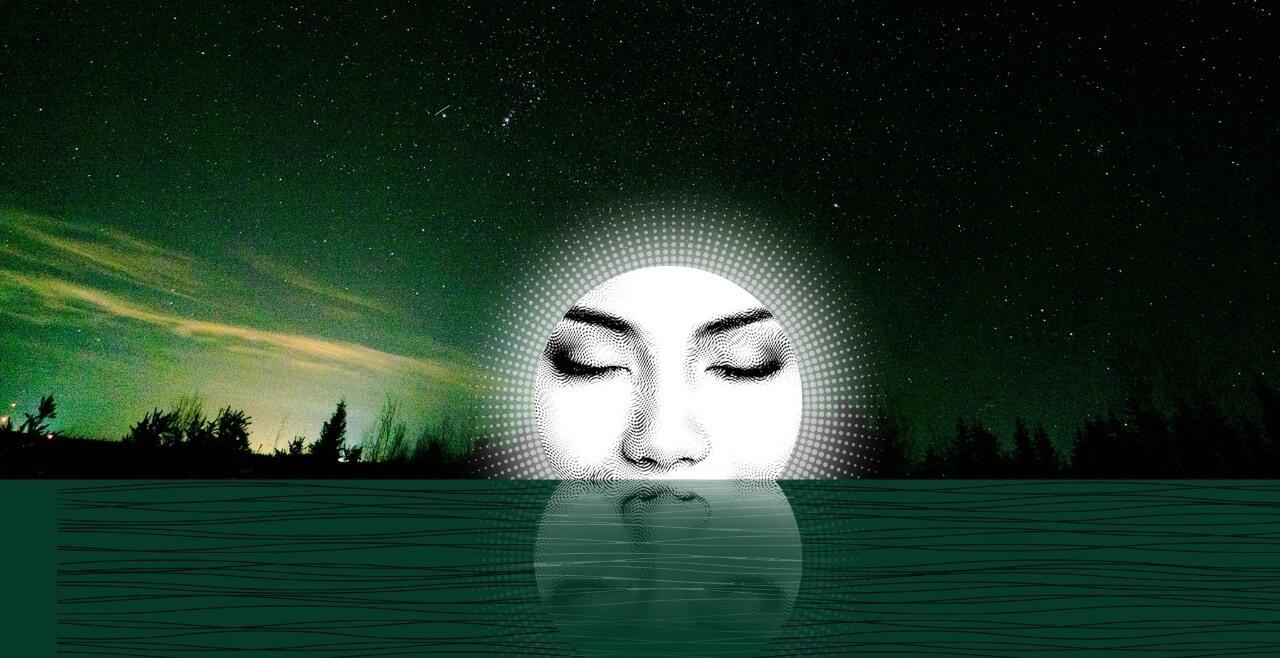 If you haven't had a chance to peek at our fabulous Seasonal Collection yet, you're in for a treat. For most of us, as we journeyed through these rather strange times we've had to hold onto our "happy place" a piece of mental space we would escape to in order to keep positively focused. This might be the beach, a lake, the sky, the stars, the mountains, just somewhere bigger than us so we can keep perspective.
We've weaved these inspiring landscapes into our JOYFUL PLACES collection and used them to give us an optimistic design we're sure you will love. Do browse around the gift section of the website to view the whole range, it's super big this year, but to save you some time, I've selected my top ten favourites to help the edit. Remember also, we can send gifts on your behalf with a personalized greeting and we have lovely gift bags that make the wrapping a doddle and both could be a great relief and save you some time.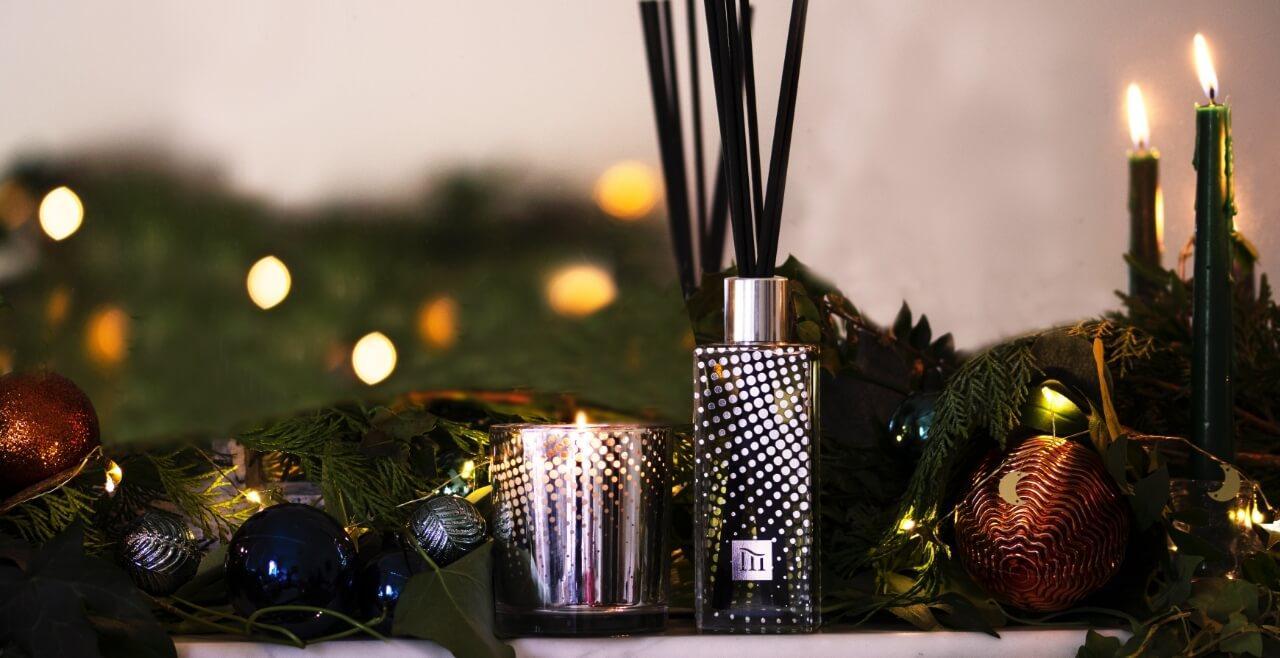 HOME COLLECTION – great for people who love to adorn their home with nesting treats
The TEMPLESPA mantra is 'create a spa wherever you are' and there's nowhere better than your home, so you can walk into an aromatic welcome every time you step into your own space and it's such a lovely greeting for your guests too…yay!
We have a new, delicious fragrance this year, I don't think I have ever loved a fragrance more, it is exquisite. It's composed of top notes - delicious citruses including bergamot giving joy and energy, infused with jasmine that brings elegance, pine needles and cedarwood synonymous with the festive season and finally musk and black pepper that gives depth and a curious comfort. Just gorgeous.
With its glowing, pure white, long-burning wax, the stunning reflective silver decoration dances in the light and with such a rich depth in the fragrance, it throws a long-lasting aroma. Beautiful.
Not everyone wants or can have a candle, especially if there are little ones toddling around, but we all want to 'merchandise' the atmosphere with a joyful fragrance; so, this reed diffuser makes a fabulous option as a stylish home decor piece for any room of the house.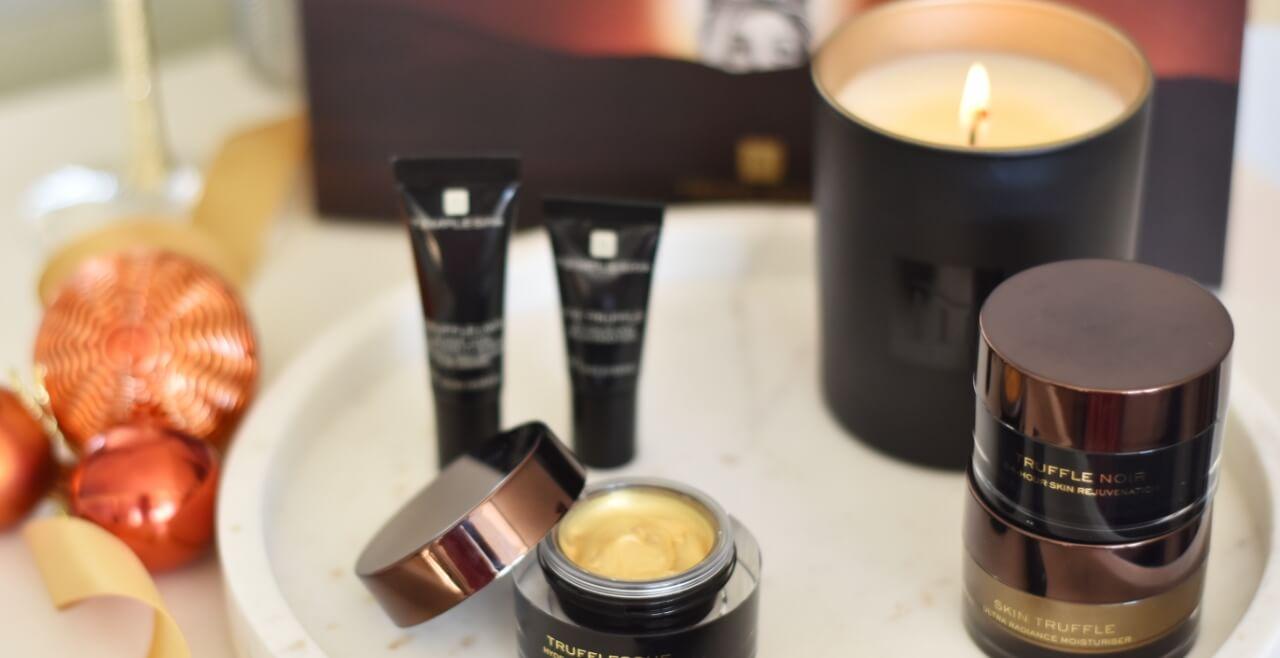 TRUFFLE – for those who love all things luxe & lavish
If you're already familiar with TEMPLESPA, you will defo know TRUFFLE. It's our signature capsule range, sometimes coined "The Bentley of skin care"! Look no further if you want to treat yourself or someone special in your life who loves all things celebratory like champagne, chocolate, strawberries, truffles, gold, silk and of course, diamonds. Bring on…
Comprising the entire skincare Truffle range, this six-piece luxe coffret is a wonderful way to enjoy everything already loved, or as a taster to get into Truffle, either way, be queen for a day, every day and what's great about it is you can personalise it whether you prefer Skin Truffle or our recently launched and loved Truffle Delight.
If you love the signature fragrance of Truffle and I seriously do, you will go crazy for this new special edition truffle product that has literally been flying off the shelves…
The truffle fragrance perfectly encapsulates the essence of luxury and elegance, blending together the freshness of mandarin, neroli and pink pepper with the sophistication of peony, mimosa and jasmine on a spicy and woody base of vetiver, cedar and sandalwood. Honey coloured wax housed in this fabulous black and gold glass, it's a luxe experience indeed.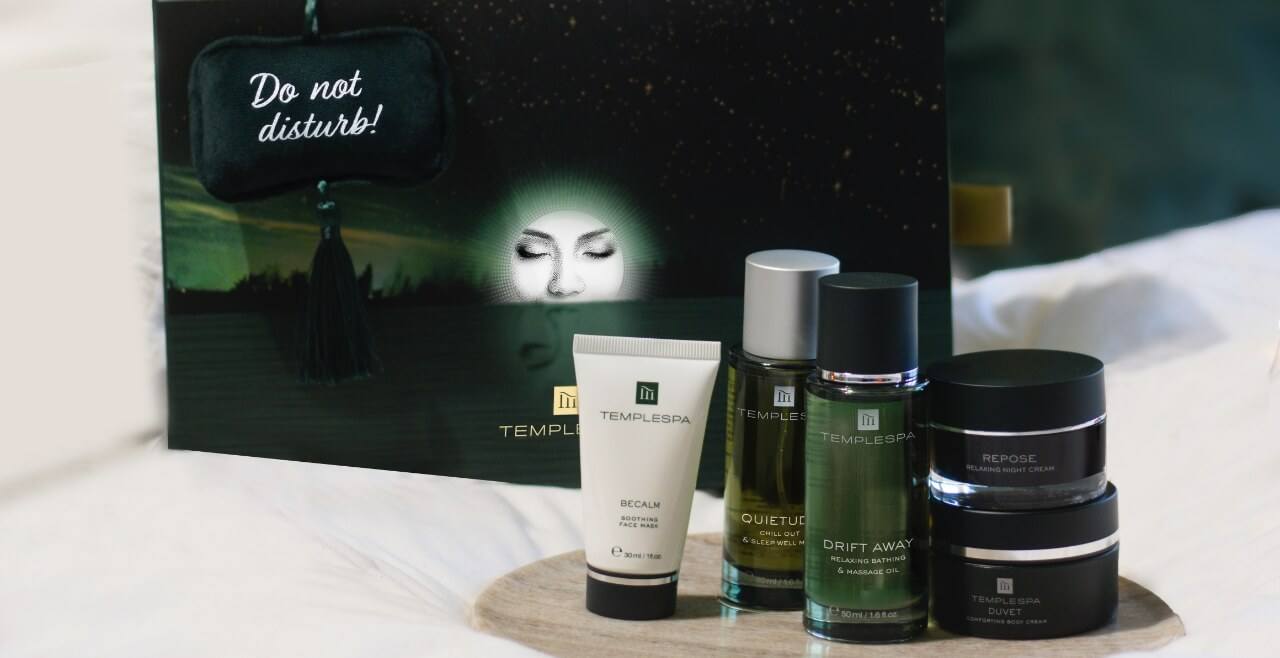 RELAXATION
We all know that relaxation speaks to everyone. "Time for me" either on your own, or with someone you love isn't a luxury, it's a necessity, but made the more enjoyable with our iconic six-piece collection of peaceful loveliness…
Once you've popped the velvet pillow "do not disturb" on the door handle, you'll be left alone to draw a bath, drizzle some DRIFT AWAY and spritz the steam with QUIETUDE, pop a little BECALM face mask on switch off while you listen to soothing sounds from our new MOMENTS OF PEACE album. When you step out, wrap your body in DUVET Body Cream and smother your face with REPOSE and you will feel like new.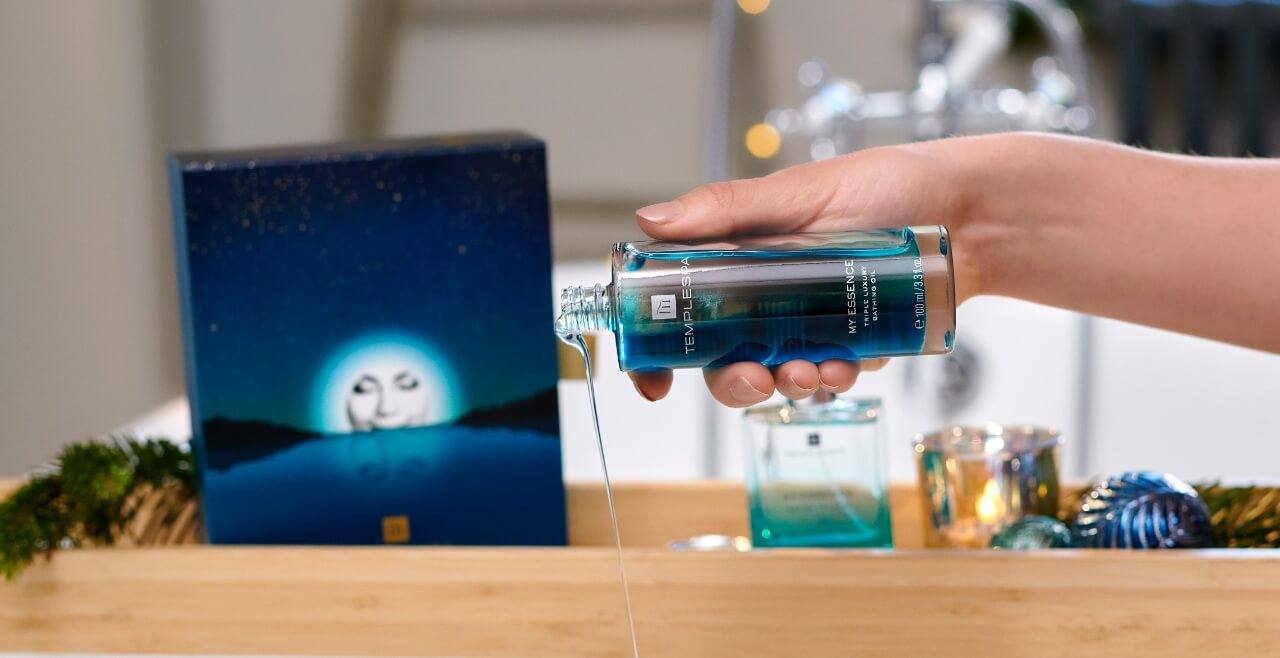 MY ESSENCE – Mediterranean deliciousness
If you missed the launch of our first ever signature fine fragrance MY ESSENCE, let me re-cap the unique scent that's composed like a Mediterranean melody. It opens with zesty notes of bergamot and petitgrain, blooms with a heart of jasmine, neroli and rose absolute and rests on a base of cedarwood and amber. And its soul? A super clever essence blend that adjusts to your own perfume chemistry and releases a scent that is yours alone, leaving you empowered, attractive and individual. Intrigued? I have to say, I am constantly asked "what is the perfume you're wearing"?!
As well as the MY ESSENCE EDT, we've given this collection a special edition partner – MY ESSENCE TRIPLE PHASE BATHING OIL Not only does this look amazing, like the Mediterranean Sea and sky, but when shaken, it's drizzled into the bath to reveal a dreamy, blue ocean.
And for those that like a steamy shower…
Featuring our MY ESSENCE Delicious Shower Cream, a beautiful rich and creamy formula with a pearlescent look that cleanses and moisturises leaving the skin soft, smooth and fragrant, a luxurious showering experience. Joined by MY ESSENCE Illuminating Body Lotion to deeply moisturise, leave the skin delicately scented and with a subtle shimmer.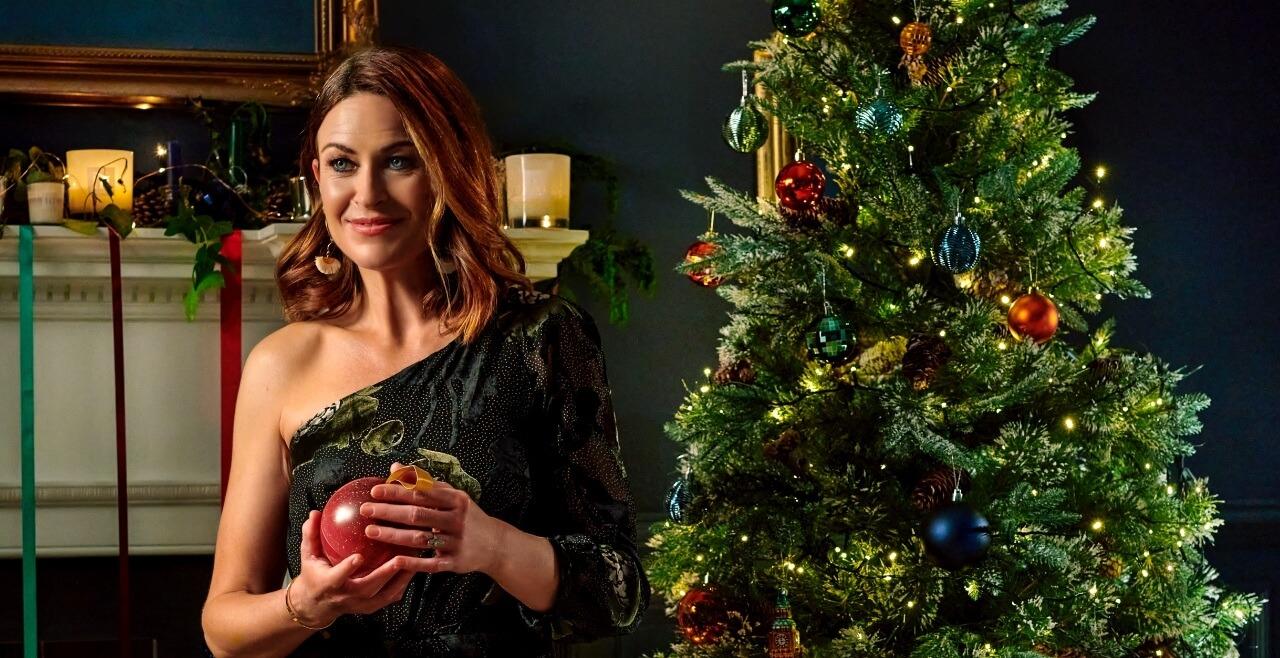 STOCKING FILLERS
We all need those affordable, lovely treats that can serve as a gift all on their own or as an extra for stocking fillers, tree baubles or to dress the dinner table. Whether trendy-teen, glam-gran or everyone in between, these will bring a smile.
This little star has been selling like hot cakes, a super-silky cream highlighter that brings skin to life with light reflecting radiance. It's a wonderfully light fluid with metallic undertones that can be applied on its own straight onto the skin and live in your make up bag or it can be mixed with your moisturiser or body lotion to give a lovely soft-focus glow.
Two fabulous shades to bring colour, shine and a treatment to party nails – Cassis a deep blackcurrant and Palermo a gorgeous sparkling pearly gold. Get creative with nail art to style your way into the new year!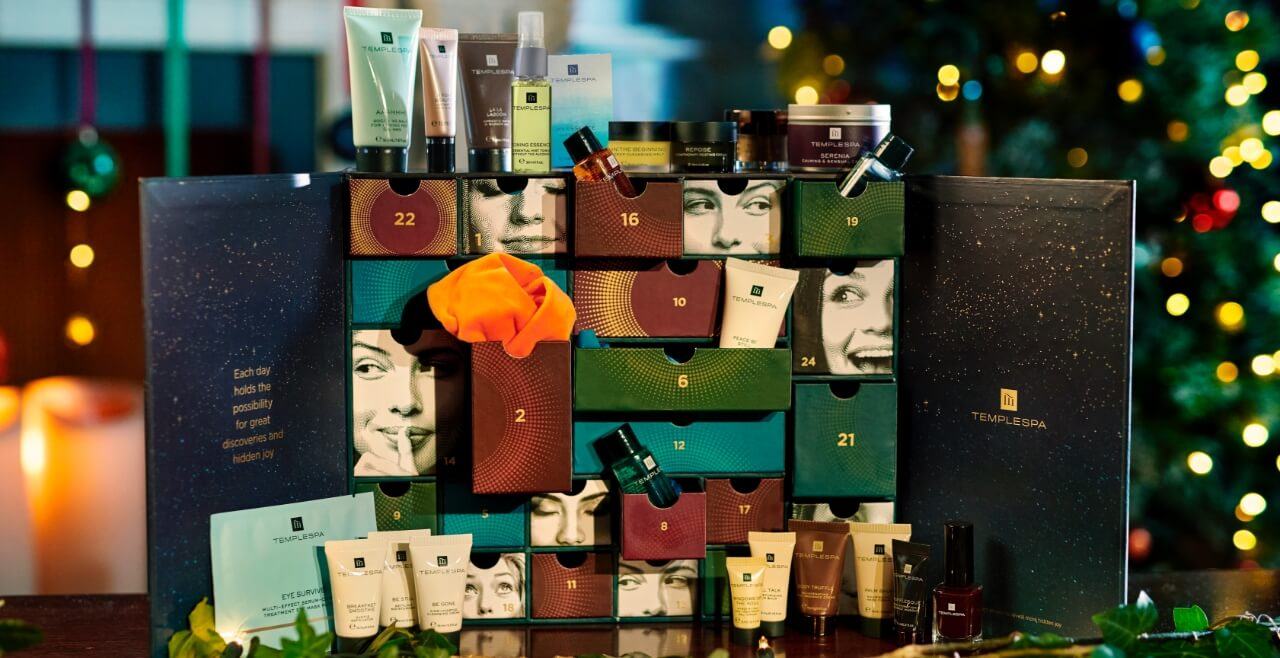 If you weren't around TEMPLESPA last year, you still might however have heard about the stampede that took place when we launched our first ever Advent Calendar which sold out within hours of the launch! So, this year we've re-introduced it with a whole new design and an offering of 24 fabulous top-to-toe products that gives you a massive opportunity to trial and treat as you celebrate each day leading up to the big day. You will absolutely love it!
I hope you managed to tick a few Christmas gifts, stocking fillers and secreta santa presents off your list and let the countdown to Christmas Day begin!
Wishing you a wonderful November.
Love, Liz xx