Truffles are an ingredient renowned for adding brilliant flavours to food and a touch of luxury. They're exclusively only grown between October and January and only found in certain places across the world, as well as a lengthy harvesting process. Sounds tiresome, right? So then why do we use truffle in our skin care collections?
We're known for creating a spa wherever you are at TEMPLESPA, but what about giving it that luxurious edge? Creating award-winning formulas with black summer truffles alongside an assortment of ingredients, that are high-performing and results-driven has given our Truffle Family a gold star luxury status.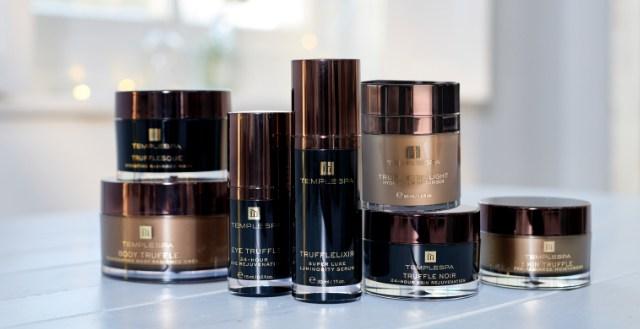 You'll find black summer truffles across our Truffle Family that work to:
Improve moisture and water retention = plumper and firmer skin
Work with the skin's natural renewal process to brighten and refresh
Hard-working anti-inflammatory capabilities
Rich in amino acids, minerals and sugar ingredients to aid collagen production for firmer skin
Helps diminish the appearance of fine lines and wrinkles
Truffles are rich in essential fatty acids, a powerful antioxidant, packed with vitamins and hydrating properties, all that help to kick start the skin into reducing wrinkles, replenishing the skin with moisture and protecting that skin barrier. It's what makes our Truffle Family so luxurious and exclusive.vv
If you have no doubt that you need some truffle skin care, let us take you through our beautiful selection. SKIN TRUFFLE is our Ultra Radiance Moisture, super nourishing for dry and dull complexions. And because you wouldn't wear your diamonds to bed, TRUFFLE NOIR 24-Hour Skin Rejuvenation moisturiser works overnight to firm, plump and hydrate the skin, leaving it bright and youthful come morning.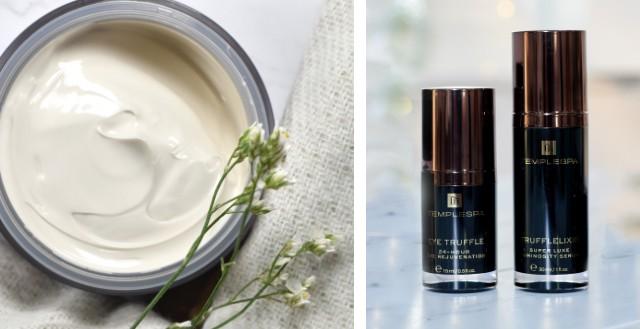 To treat the skin, TRUFFLELIXIR is our luxe serum with a super concentrated blend of ingredients that delivers radiance to dull skin and works in harmony to reduce and soften the appearance of wrinkles. Not forgetting the eye area, EYE TRUFFLE treats the eyes to a boost of anti-ageing support, de-puffing action and targets dark circles. And why let your face have all the fun? BODY TRUFFLE brings the luxury radiance to your skin, our Rejuvenating Body Radiance Crème gives skin an instant brightness while being deeply nourishing and hydrating.
We have a special addition to the Truffle Family this month, TRUFFLE DE-LIGHT! A super lightweight moisturiser that delivers the hydration and glow to oilier and combination skin types – or if you just want a touch of silky hydration without the greasy after-feel.
We hope you've discovered more about truffle in skin care, what it can do for you and a few of our favourite products with the exclusive ingredient!