We've all been there, looking in the mirror and thinking "I definitely have dull skin today' that is in need of a burst of energy and life put back into it! For us that starts with a balm cleanser, something that can help remove any dead skin cells causing the dullness and uneven skin tone and doubles up as a makeup remover for clearer and healthier skin. Let's get to know the best cleansing balm at TEMPLESPA, IN THE BEGINNING.
Sometimes referred to as 'a facial in a jar' your skin is treated to the crème de la crème of all cleansing balms, goodbye dull skin! The Deep Cleansing Melt has a unique crystalline buttery texture that melts under the warmth of your hands and gentle massage. What these crystalline pieces do are exfoliate away dead skin cell build-up, often a cause of lacklustre dull skin and leaves skin soft and smooth to touch. They're produced in our manufacturing process, as we only create IN THE BEGINNING in small exclusive hand-blended batches, we loved discovering this added extra for our balm cleanser!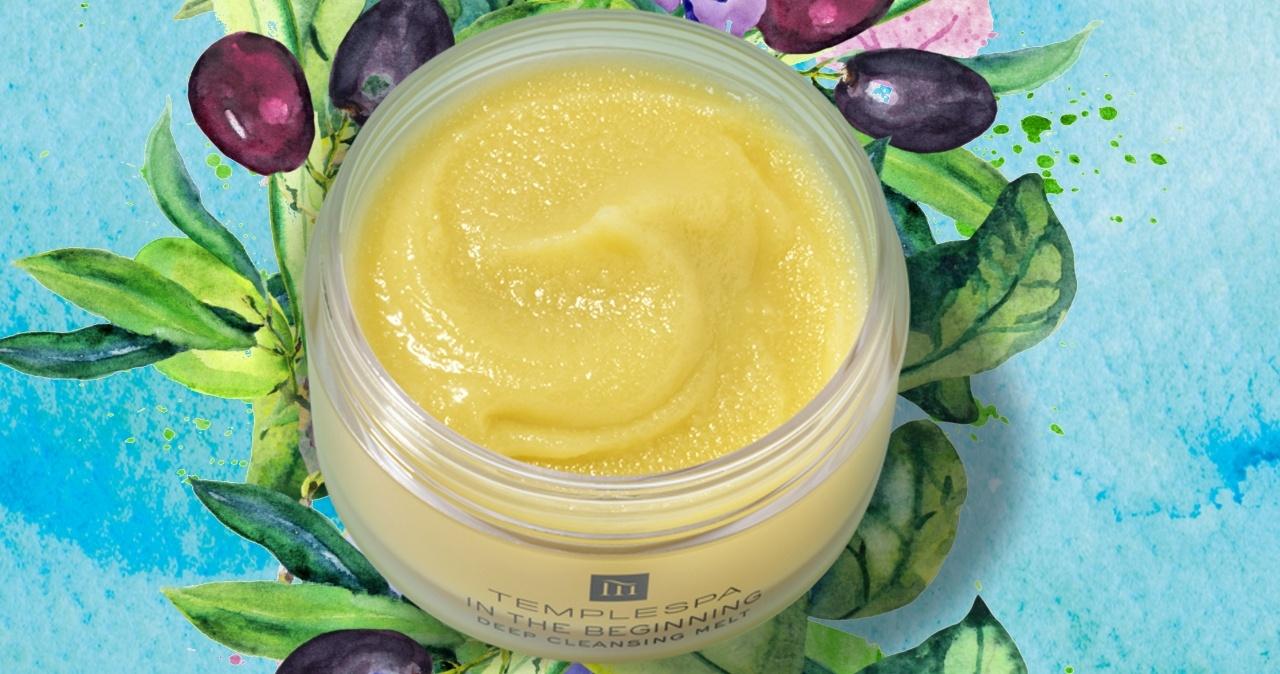 It wouldn't be a TEMPLESPA cleansing balm without a Mediterranean twist in the form of skin-loving ingredients. Olive fruit oil gives the skin extra hydration and moisture, leaving skin soft, smooth and with a dewy healthy glow. Calendula flower extract gives our award-winning balm cleanser that brilliant yellow colour, alongside helping to protect and restore damaged skin. Basil leaf extract, clary oil and lavender oil all work in harmony for skin that's soothed and calmed, plus vitamin E helping to reduce water loss and keep skin healthy!
If the ingredients of our cult-favourite cleansing balm have tickled your taste buds, take a look at what our independent trials say:

To get the most of our cleansing balm we recommend using a muslin cloth or cleansing brush to help massage it and promote all those exfoliating benefits. First apply a small amount to your skin and use the warmth of your hands to massage it around your skin in circular motions. Next take your muslin cloth (we recommend TAKE IT OFF) moisten it, use the same circular motions with it across your skin then remove. It's gentle enough to be used as a makeup remover balm too!
If you want the extra exfoliating level that you'd get with a cleansing brush, meet CLEAN UP YOUR ACT. A clever double-sided device, one side to rejuvenate and the other to deeply cleanse, helping remove 99.5% of dirt, makeup, impurities and excess oil from the skin. Move the device around your skin in circular motions, the low frequency sonic waves and soft silicone bristles help make your cleanse go that much further.