Like eating your 5 a day of vegetables and fruit, getting the best and right ingredients in our skincare is a top priority because of the brilliant benefits you can enjoy! We're talking all about the vitamin c benefits for the skin and where you can find the best vitamin c serum for you. This way for glowing, radiant skin!
What does vitamin c do and what are the benefits?
It's a brilliant ingredient that's been around in the skincare industry for years, and has many advocates to say you need this in your skincare routine! Vitamin c brightens dull and discoloured skin, helps fade age spots by inhabiting pigment formation and because it's an antioxidant it helps to strengthen the skin against the damage UV light does to our skin. On top of this it helps boost the production of collagen and elastin in the skin, marking it as a great anti-aging ingredient and it's an antioxidant too, working wonders on the free radicals our skin is attacked with each day. Whew, quite a lot for one ingredient right?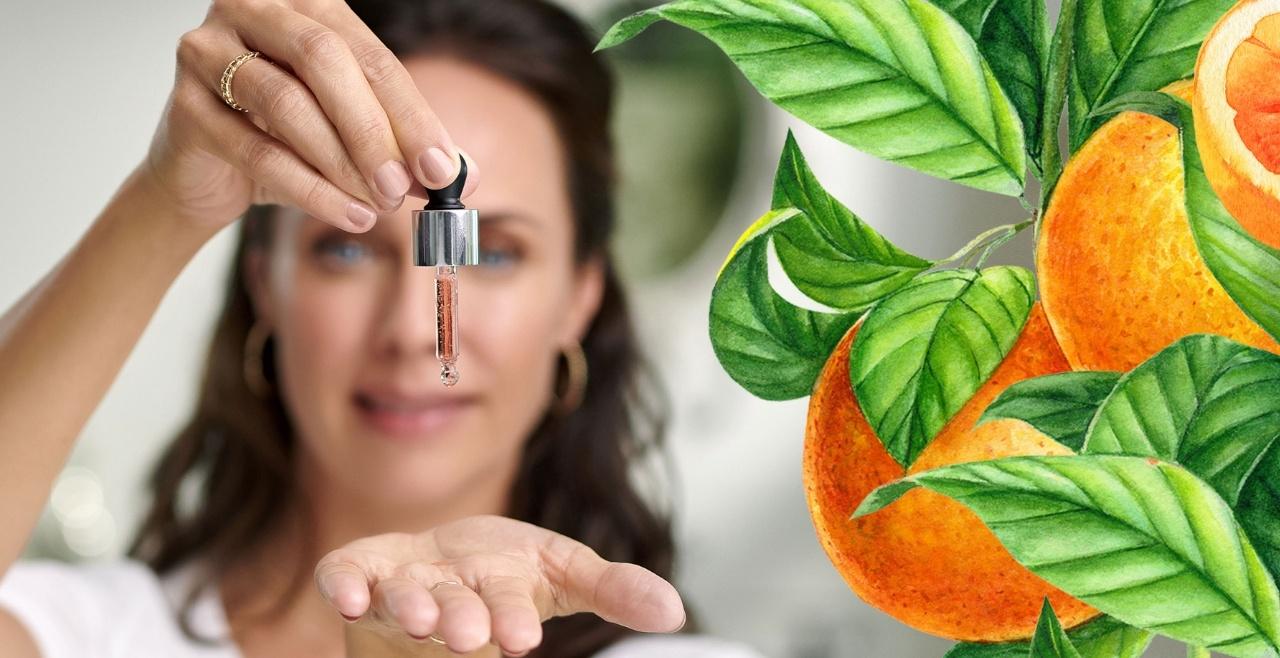 Where can I find vitamin c skincare products?
Now you know all the benefits of vitamin c you want to get your hands on some for your skincare! At TEMPLESPA we combine science-led ingredients with Mediterranean botanicals, so you may be thinking we use freshly squeezed orange juice for our vitamin C but we turn to stable forms of vitamin c to help get the maximum benefits for your skin. Vitamin C oxidises quickly if not formulated or packaged in the correct way, keeping them stable and ensuring you get the most effective ingredient for your skin.
LET'S CONCENTRATE Skin Glowing Serum
Probably the most common way you'll find vitamin c in skincare is in the form of a serum. These are highly concentrated blends of ingredients for targeted action, often you'll see 'brightening serum' or 'targets dullness' across vitamin c serums which'll point you in the right direction!
Our vitamin c packed serum features ascorbyl glucoside as our stable form of vitamin c and works in conjunction with alpha arbutin to enhance the ability to reduce age spots and blemishes and promote overall brighter, healthier skin. We've also added in sodium hyaluronate (more on this ingredient and its benefits here) for a boost of hydration!
Naturally an exfoliating and brightening toner will have vitamin c featured! This hardworking toner uses AHAs like glycolic, mandelic and lactic acids to gently exfoliate away dead skin cells, and then Mediterranean fruit extracts of grape, apple, lemon and orange which are rich in vitamin c. The fusion of all these ingredients renew, nourish and brighten the skin. Try adding this vitamin c toner to your skincare routine twice a week and slowly build up to 3-4 times.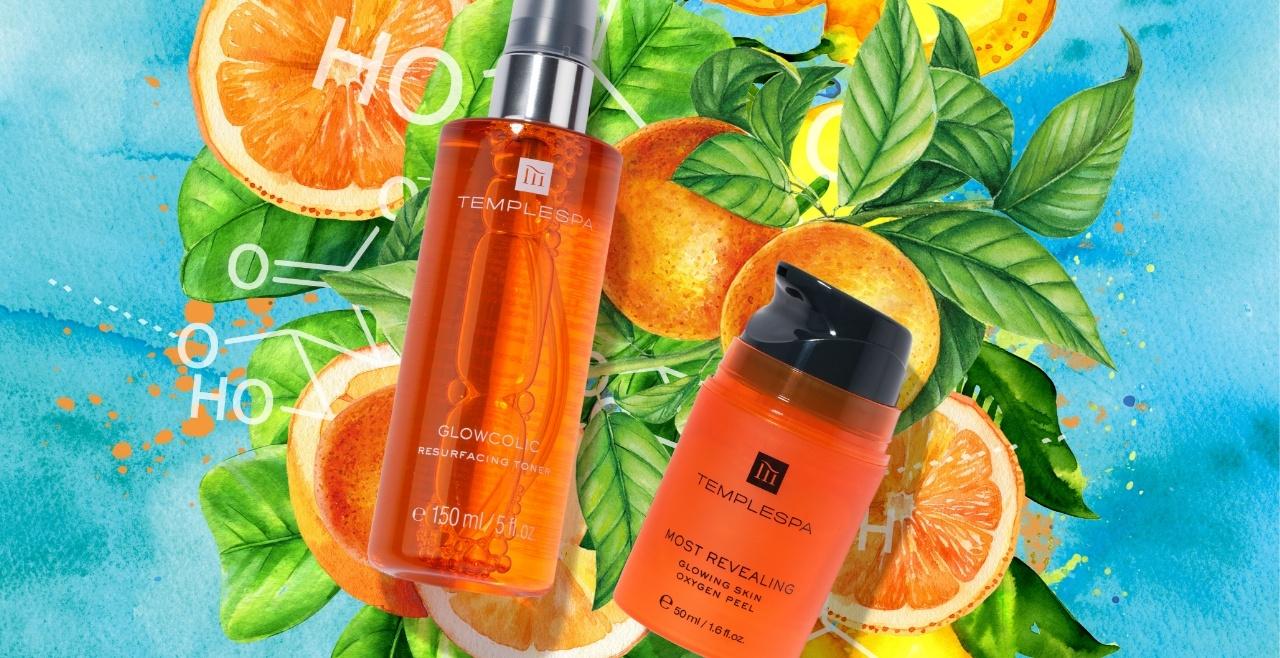 MOST REVEALING Glowing Skin Oxygen Peel
And with any product that has the word glowing, it's going to have vitamin c featured! This clever mask turns from a cool orange gel to bubbles that fizz and pop as they gently exfoliate away dead skin cells and dull skin tone. We love to use this as an instant facial before a special occasion, or just because!
Like our vitamin c toner we've also combined AHAs with vitamin c to promote healthier looking skin that sings with radiance and feels soft and smooth to touch. While the mask fizzes away it's helping to break down the bonds of old dead skin cells of which they are clinging onto your skin with, while ingredients like vitamin c from Mediterranean fruit extracts and sodium hyaluronate restore brightness and hydration to the skin
PALM BALM Nourishing Hand Cream
Often age spots can first appear in our hands, because they're an area exposed to the outside elements daily and the skin is thinner here so more prone to aging first. We help reduce the appearance of age spots with a vitamin c hand cream like our PALM BALM.
Because of vitamin c's antioxidant properties that tackle free radicals and the added benefits of fading age spots by inhibiting pigment formation, this makes it an essential ingredient for a hand cream. Alongside nourishing oils and other vitamins, PALM BALM keeps hands looking healthy, youthful and topped up with hydration!