Every good skincare routine starts with cleansing, it's one of the most important steps that mustn't be missed! Cleansing not only removes makeup, but it also removes daily dirt and pollution that has accumulated throughout the day, gently cleanses and polishes the skin and creates the perfect base for the rest of your skincare routine. Not cleansing properly can cause to an increase in breakouts, dull looking skin, sensitivity and visible signs of ageing. This one, simple step really does make or break a skincare routine!
If you're wondering how to use facial cleansers and which facial cleanser is right for you, look no further as we have the all-inclusive low-down on facial cleansers by skin type right here. Ready?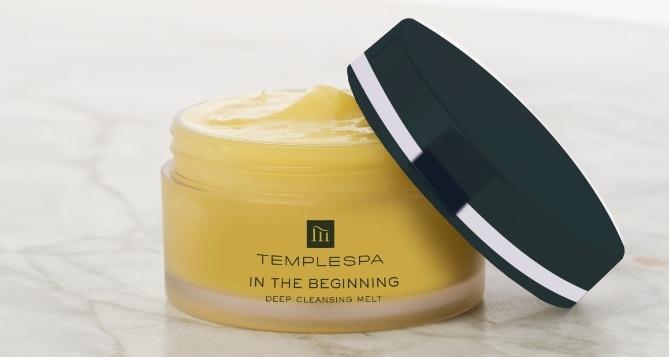 Dry skin?
You need to try IN THE BEGINNING Deep Cleansing Melt £32. Our award-winning, nourishing deep facial cleanser will leave your skin feeling hydrated, revitalised and silky soft. It is also the best exfoliating face wash thanks to the unique buttery-crystalline texture that polishes the skin and slowly melts as you massage in, delivering gorgeous Mediterranean ingredients such as olive, calendula, basil and clary.
Simply take a pea-sized amount and massage in gentle circles over the face and neck. Allow the product to glide over the skin, gentle exfoliating to begin with and gradually melting away. Remove with a warm damp flannel (Hello TAKE IT OFF Muslin Cleansing Cloth) and reveal a clean and clear, dewy complexion.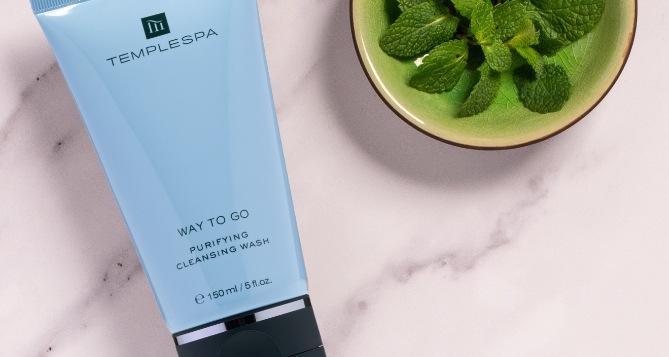 Oily skin?
You'll love our WAY TO GO Purifying Cleansing Wash £22. This quick, wash-off cleanser will leave your skin feeling freshly clean and comfortable, in a flash. TOP TIP: it's also a great face wash for men! Our best-selling face wash for oily skin, has a cooling gel texture that cleverly reduces oiliness and shine on the skin but is gentle enough to use daily and doesn't strip the skin.
Every morning and night, splash the face with water and squeeze a raspberry-sized amount onto the palms, spread this all over the face (and beard) using circular movements. Rinse off with warm water and say hello to a comfortable and clean complexion.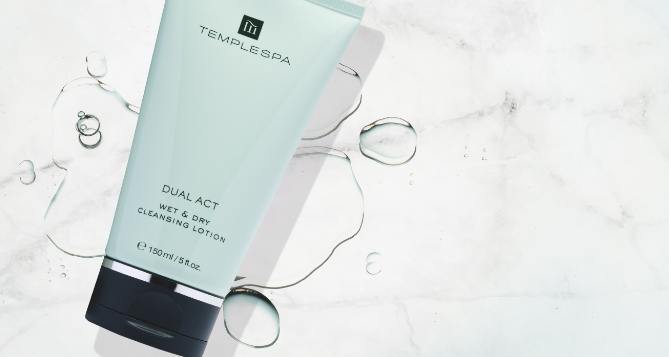 Combination skin?
Discover our DUAL ACT Wet & Dry Cleansing Lotion £22. This highly intelligent formula is able to treat both oily parts of the skin as well as dry areas, so your whole face is left balanced and refreshed! The gel-lotion texture contains the savvy Combiderm™️ complex, as well as Mediterranean extracts of tomato, marjoram, olive, apricot, grapefruit and wild yam, plus skin boosters and vitamins.
Use on dry skin as a wipe-off lotion, or splash with water and lather it up when you feel like washing off the daily grime.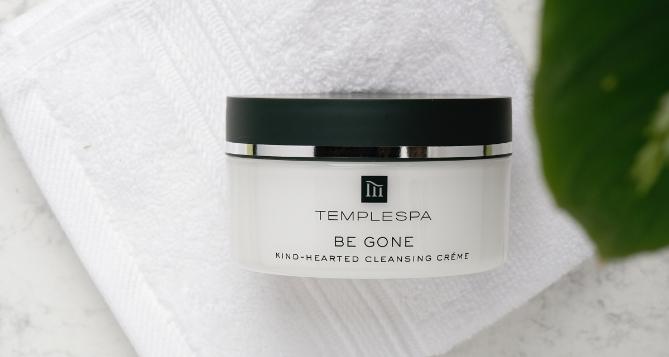 Sensitive skin?
You need to try BE GONE Kind-Hearted Cleansing Crème £22. This beautiful cleanser for sensitive skin is oh so delicate on fragile skin, helping to settle and soothe thanks to its lightweight, calming prebiotic formula. It has a unique elastic texture so it doesn't pull skin, yet gives a super cleanse. This calming face wash for sensitive skin contains vitamins A and E plus our unique Calmaderm™ complex with Mediterranean botanicals of basil, aubergine, liquorice and apricot, along with the advanced skin science of a powerful prebiotic that's designed to leave your complexion healthy, settled and comforted.
Apply morning and night to face and neck, massaging with upward circular movements. Splash face with warm water or use a warm damp cloth to remove.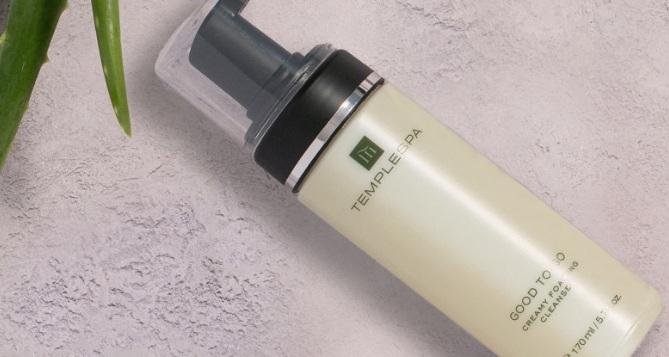 Normal skin?
Try our GOOD TO GO Creamy Foaming Cleanser £22. This best-selling, foaming skin cleanser washes off to leave you feeling clean and super fresh. If you're blessed with pretty normal skin and love natural goodness, then you'll adore GOOD TO GO foaming face wash. The naturally bountiful and highly nutritious formula includes aloe vera, carrot, bergamot, lemon, tangerine, cucumber, honey, watercress and multivitamins. It's a Mediterranean market goodness! Splash the face with clean water, then work two pumps of this creamy lotion into a foam on the skin using upward circular movements. Rinse with clean water.
Fancy treating yourself to one of our award-winning cleansers? Shop the range here.
So what about double cleansing?
You may have heard this term be used quite a lot over the years in the beauty industry, it's promoted for a reason. We are big fans of double cleansing here at TEMPLESPA as not only do you have the opportunity to treat your skin to 2 cleansers each day (and by the way, reel in the benefits of both of those!) you also benefit from a more efficient cleanse.
Double cleansing works in 2 stages; the first cleanse removes makeup, daily grime and pollution so your skin is left trace free of any external elements. The second cleanse actually treats the bare skin and leaves you feeling super clean. This method of cleansing is more efficient as it ensures a thorough cleanse, but also allows other skincare products to penetrate the skin more easily and therefore more effectively.
Go on, give it a go!