'Me Time' & 10 Top Tips On How To De-stress & Relax
Hello friends,
I hope this finds you well. I just love this time of year when the deep of winter leaves us and the promise of spring and new life emerges. However, it doesn't matter what the season or time of year is, one thing remains true, we all need 'me-time' and it's actually fine to put it high on your personal agenda. It's true that most of us concentrate on what we do, rather than what we 'be'! So, it's important to remember that your best you is the best gift you can give to yourself and others.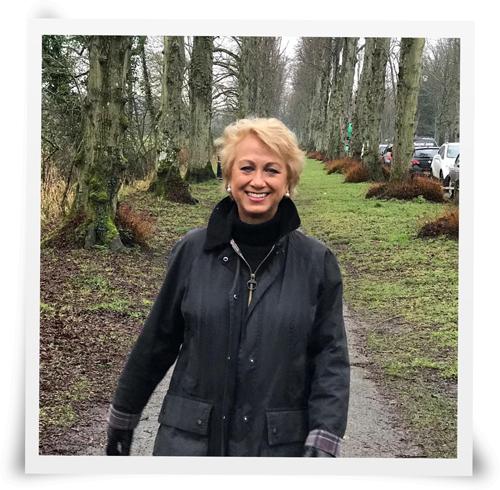 My hero, author and speaker Simon Sinek says; "rest and relaxation is the new luxury". I love that; but let's face it, it's a luxury we cannot afford to save for special occasions, it has to be weaved into our everyday. Here are my personal top ten me-time, de-stressing and relaxation tips for a busy person. So, grab a cuppa, press pause and read on. You can also catch my video on relaxation tips here.
My Top 10 De-stressing & Relaxation Tips
1. Rise Early

I'm not naturally a morning person, but I figured a long time ago that it's going to be hard for me to wake up whenever the alarm goes off; so, I might as well set it 15-30 minutes before I actually need to get up, it allows me time to 'come to', dose and not rush, which is not good for my psyche. I take a flask of hot water on a tea tray to bed with me so it's close by for that essential early morning drink. I also set out my clothes the night before, so again, I don't have to think too much or spend time being indecisive in the morning; I find that five minutes spent before bedtime is the equivalent to fifteen minutes in the morning.
2. Turn Your Shower Into A Spa

A shower is a wake-up call, whether first thing, during, or at the end of a stressful day and it's amazing how this five minute me-time can wash away mental as well as physical fatigue. Adding a face and body scrub to your routine a few times a week, takes just a minute or so more, but it really exfoliates and polishes your skin making it feel refreshed and your whole persona brighter. With a bath I want relaxation, with a shower I want energy, so when I switch on the hot water tap, I let it run to get the room nice and steamy, then I spritz some SPIRITUDE energising aromatherapy spray into the shower and the effect is an instant spa. Bliss.
3. Bathing Is A Reminder To Love Yourself

I often hear people say they don't have the time for a bath, but if you do have one in your home, I can't think of a better 10-minute antidote for your stressed skin, body and soul. For me, the process of running the water, drizzling in some DRIFT AWAY bathing oil, lighting a SIESTA FOREVER scented candle, spritzing the atmosphere with QUIETUDE calming aromatherapy spray, whilst giving my face a thorough cleanse, is a nightly ritual I can't live without. Listening to THE REPOSE SUITE (available on iTunes), I decompress, let the mental chatter leave me, while I soak aching limbs in the aromatic liquid. An oversized bath towel warmed on the radiator will get you dry quickly, and you'll emerge relaxed and rejuvenated every time.
4. Sleep Like A Baby

Easier said than done! However, there are some really easy things to add to your checklist to at least give yourself the best chance of a good night's sleep. Don't eat or drink alcohol within three hours of retiring; turn off all blue light screens at least an hour before going to bed; ensure blinds or drapes shut out all external light; make sure your bedroom isn't too hot; invest in a good pillow and mattress, including mattress topper; don't watch TV programmes that have a high body count, are upsetting or scary after 9pm; off-load your to-do list with any big priorities, then try to leave it, worrying rarely helps solve anything, tomorrow you will feel more fresh and better perspective; don't end your day moaning and complaining, it will make you tense, to the contrary, think of things you are grateful for and meditate on those as your last thought; never go to bed with an uncleansed face (even the guys), then take time to apply REPOSE resting and night cream with slow massage movements, remember to breathe deep breaths through your nose and out through your mouth; relax your body starting at your feet (if you have some, apply AAAHHH! cooling foot and limb balm on your feet and legs) working your way up the body with the last process being to drop your tongue from the roof of your mouth.
5. Writing Notes

I'm a creative, product and people person, so thoughts and ideas come to me all the time. My husband Mark is project and task oriented, so long term and immediate actions come to him all the time. We therefore have a small notepad and Post-It Note block in every room of our house, in the car, jacket pockets and on our desks, so we can always capture thoughts. Even in the middle of the night, we scribble them down and then transfer them to our master-list / little black book or agendas. If we didn't do this we'd be relying on memory (not good), worrying (worse) or simply not getting on with things (consequential). I reckon this little trick saves us at least about 15 minutes per day and more importantly leaves our minds clearer.
6. Walk Don't Wobble

If you've read my blog before you'll know that walking this is a personal love of mine. I don't always walk a long distance, nor do I have the time to do this every single day, but I know this, I feel better when I do. To see the world through an outdoor lens lightens the load. I love watching the seasons change, there's beauty in each one and it's a choice to not slouch on the sofa or get the car out even to pop to the supermarket, but if all you did was walk 15 minutes several times a week, your skin, body and soul will benefit. It's amazing how those steps mount up and how Ted Talks, podcasts, beautiful music or complete silence are all the more enjoyable when added to a walk. And here's the good news, with walking your wobbly bits will get less wobbly!
7. Leave Your Post

Whatever our work, it is so important to leave your desk, kitchen, classroom or wherever you do life to take a mind rest, stretch, walk round the block, breathing exercises, or having a cuppa in the garden. Contrary to the belief that by doing this you will lose time or concentration, it has been psychologically proven this will indeed boost your brain, help circulation and solve problems. I often stand up from my desk and do 20 'windmills' swinging my arms round, followed by toe touches and neck rolls, it's amazing how energising this is, a good tip to teach your children and get their little faces out of a screen!
8. Read

The only time I really get into serious book reading is when I'm on holiday, when I can truly switch off, good for you if you can incorporate this into daily life, big respect. However, if like the rest of us it is a luxury to do this, at least take a few minutes each day to read the type of book, magazine or publication that has chapters broken into smaller segments. There are 31(ish) days in a month and each day I read a proverb of the day from the bible, I read a page or two from The Week (a great way to catch up with news a page at a time) and always have a self-help book that can only be digested in small chunks, so no guilt attached. The idea is to feed your mind with inspiration and good thoughts, not the things that wind you up, are too work focused, or leave you anxious.
9. Breathe

I need to be constantly reminded to breathe well, but I notice a huge difference when I do. My trusty BREATH OF LIFE inhalation essence can be breathed from the bottle, popped onto a tissue or used with boiling water as a vapour. Either way, shallow breathing isn't good, deeper breathing is, so manage stress and headaches and instil a better sense of calm
10. Escape Space

Even if your life is mega busy and you feel on constant overload, you have to find the place you can escape to, for a daily replenish and re-fuel (see bathing above). It helps to have a favourite chair, corner of the house, place in the garden, or even a borrowed space like a library, café or park. I have a bench on my patio where I sit for five minutes and re-imagine, unplug and quieten down.
Remember why all of this is important – caring for ourselves is healthy, don't feel guilty about taking some 'me time', it allows you to be there and on form for everyone around you. In order to flourish you need to feed not only your body but your mind and soul too. That's why my mantra and our philosophy at Temple Spa is that; 'your body is a living temple. Honour it, enjoy your life and live it to the full' and why everything we do is to help you to achieve this.
Until next time,

Love

Liz XXX
P.S. Discover some indulgent 'me time' with our full range of peace and relaxation aromatherapies for skin, body and soul.
Some of Our Best Skincare & Aromatherapy Products for Relaxation, De-stressing & 'Me Time'