Jessica Biel recently admitted that as a busy mum she often eats in the shower, while this is a shower activity that we have yet to adopt it is worth giving your shower strategy a second thought. While there is no wrong way to shower you want to use the few minutes of peace time to optimise the health and appearance of your skin and hair. Being strategic in the order that you do things may also save precious minutes in the morning leaving you time to pick up a much needed coffee or spend a few minutes pouring through a newspaper or magazine.
Prep

Like many things in life the prep is as important as the activity and your shower routine should begin before the water even starts running. Kick off your regime with body brushing to start the exfoliation process and to improve circulation as well as your lymphatic flow which will help to flush out toxins. Start brushing at the feet and work up the legs, using gentle, sweeping movements towards the heart. Then work on your hands and move up the arms the over shoulders, back and body. Avoid the very sensitive areas of the chest and don't use the brush on your face.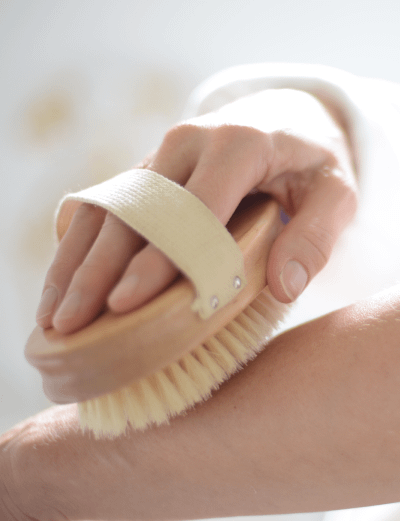 Check the Temperature

There's something incredibly comforting about a long hot shower after a tiring day or using it to coax yourself out of bed on a chilly morning, however, the bad news is that hot water can dry out skin and strip it of its natural oils. Hot water is also bad news for hair health so try and stick to warm water as this opens up the hair cuticles which removes dirts and oils. Follow your conditioner with some cold water to close the cuticle and to seal in moisture leaving hair shiny and healthy.
Follow the same order

Shampoo
Before you start the washing process make sure you rinse hair in warm water to open up the cuticle and loosen dirt and oil. You don't want to over shampoo so try not to wash hair every day and don't use too much product. Evenly distribute your shampoo, work it all over including the nape of your neck as this tends to be the oiliest area. Rinse until the water runs clear, it helps to tilt your head gently back as this prevents the shampoo suds touching your face.
If you have colour treated hair use a shampoo that is 'sulfate free' to prevent unnecessary fading.
Good Hair Day does more than just clean, it contains ingredients to condition the hair and help it to resist split ends and damage. Your hair will have added volume, shine and be full of life.
Condition
Using a conditioner in the shower is your first step to silkier locks and it also reduces friction and therefore breakage when you brush your hair. Squeeze out excess water and condition the lower half of hair, avoid your roots otherwise they can appear greasy. If you are exfoliating or shaving you can leave the conditioner on for 2-3 minutes to penetrate. If you are brave enough blast your hair with cold water after rinsing as cold water seals the cuticles which promotes silky, shiny hair.
In Good Condition contains jojoba, vitamin B, eucalyptus and peppermint to soften and shine hair as it conditions.
Exfoliate
Exfoliating is a great use of time while you are waiting for your conditioner to penetrate into hair, it will get rid of dead dull skin cells and promote cell turnover to reveal healthy, glowing skin. It's important not to over exfoliate, you will only need to exfoliate 2-3 times a week depending on your skin type (less if you experience sensitivity or inflammation) and use a gentle exfoliator. If you plan on shaving in the shower, exfoliating first can help to release any ingrown hairs and creates a smooth base for your razor.
Sugar Buff is an Mediterranean inspired anti-ageing sugar exfoliator that leaves skin silky smooth, hydrated and buffed to perfection.
Face Wash
Washing your face should be one of your last steps as some of the ingredients in moisturising hair products can clog pores and cause breakouts. As the skin on your face is more delicate than the rest of your body make sure that the water is lukewarm and avoid rinsing your face directly under the shower head as the water pressure will be too harsh for your face.
In Shower Facial
On days when you aren't planning on exfoliating but want to give skin a treat you can apply a facial mask such as The Power Breakfast or Purification for 5 minutes. The steam from the shower will open up your pores and aid the absorption of the ingredients in the mask. The Power Breakfast can be used as a facial exfoliator or mask to brighten, decongest and smooth even the dullest of complexions.
If your skin is particularly congested or lacklustre try Purification, the anti-blemish and deep cleansing skin purifying clay mask. It flushes out grime from blocked pores, helps control excess sebum, detoxifies and decongests for skin clarity, removing dead skin cells and impurities to reveal a healthy glow in just 5 minutes without drying the skin.
Body Wash
Just like washing your face, this should be left until after your washing your hair as leftover conditioner can cause breakouts on both face and body.
Moisturise

Apply moisturiser or body oil straight after getting out while skin is still damp, as this maximises its absorption and locks in the moisture. Using a moisturiser with glycerin and hyaluronic acid helps to attract moisture to the skin.