Looking for glowing, soft and smooth skin? Keep on reading! Our ultimate guide to finding the best exfoliator for our face, what is a chemical exfoliator and how to use an exfoliating brush from top to toe.
Why do I need to exfoliate?
You may think your skin doesn't need exfoliation, a cleanser or shower gel and then a moisturiser is fine but by adding an exfoliating scrub to your routine can make all difference to elevating the rest of your skin care routine.
Dead skin cells can sit on the top of our skin, attached by bonds that we need to release by exfoliating. A good skin care routine will have regular exfoliation to keep on top of dead skin cells and help keep skin soft and smooth. When lifting away these dead skin cells in exfoliation, you're also allowing the rest of your skin care routine to absorb more effectively and deliver on better results for you! Sounds like a win win, right?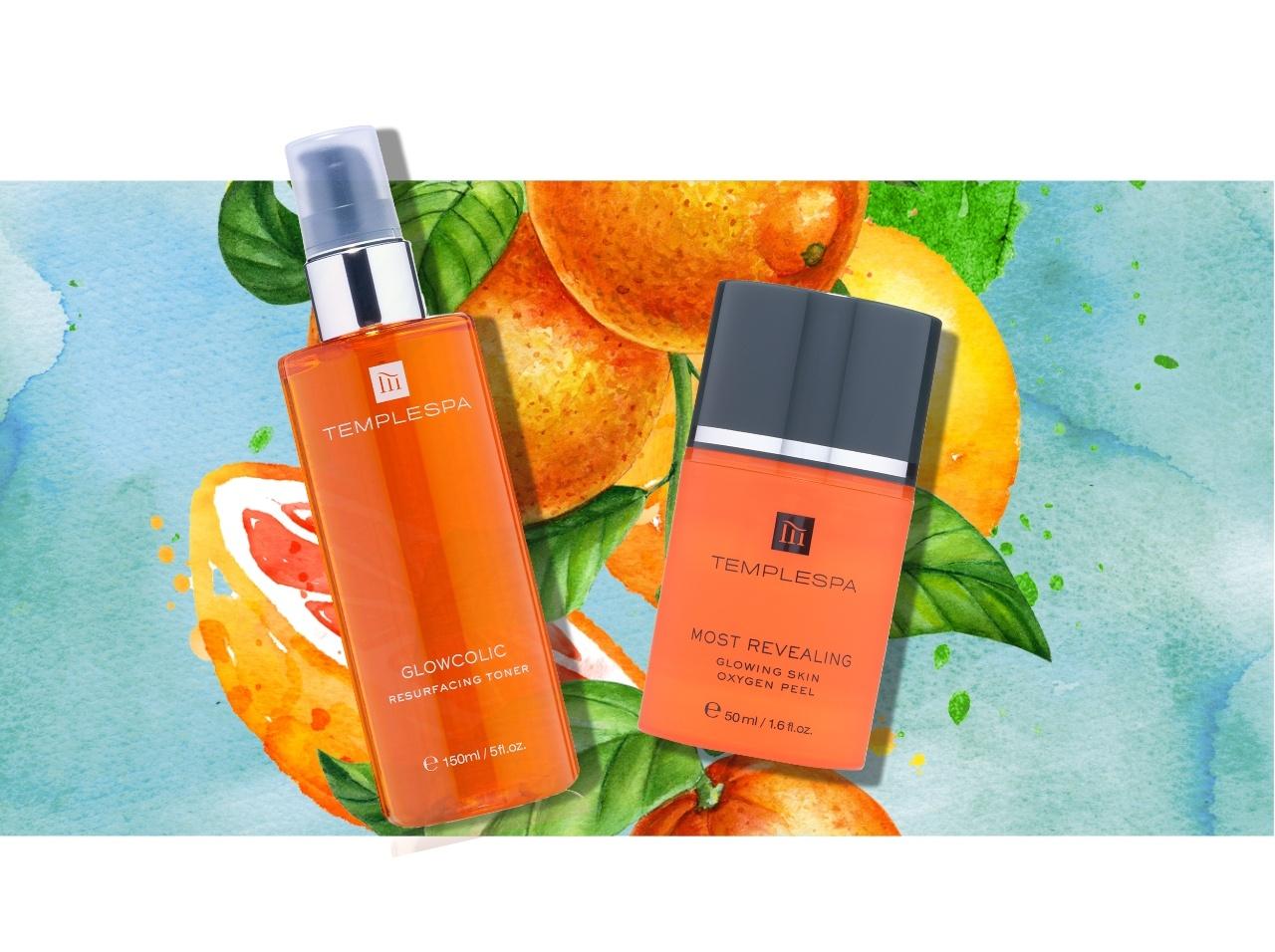 Exfoliating for the face
Followed after cleansing but before your toner, a great face exfoliator will help soften and smooth your skin ready for your serum and moisturiser. Starting with a chemical exfoliator, these are products which include AHAs (alpha-hydroxy-acids) like glycolic and lactic acids. They aid in dissolving the bonds which your dead skin cells attach themselves to your skin and lifting them away.
We love to exfoliate our face with GLOWCOLIC Resurfacing Toner throughout the week of our skin care routines, it's a liquid toner which you pump onto a cotton pad and then sweep across the skin. If you'd love a deeper exfoliating action and skin care treat then MOST REVEALING Glowing Skin Oxygen Peel does a brilliant job at this. It's an orange gel which turns into bubbles when you massage it into the skin, nibbling away at all those dead skin cells for a smoother, brighter complexion.
More traditionally you might think of a physical scrub for your face exfoliator and we've combined our Mediterranean ingredients to create a beautiful experience like this. Take THE POWER BREAKFAST Nutritious Scrub & Mask, its creamy texture of kaolin clay has added oats to aid in exfoliating and fruit AHAs to revitalise, polish and brighten. If you're looking for a gentler exfoliating scrub then BREAKFAST SMOOTHIE Gentle Exfoliator is a beautiful alternative to not upset the balance of your skin. Still featuring the brilliant Mediterranean fruits to purify and invigorate the skin.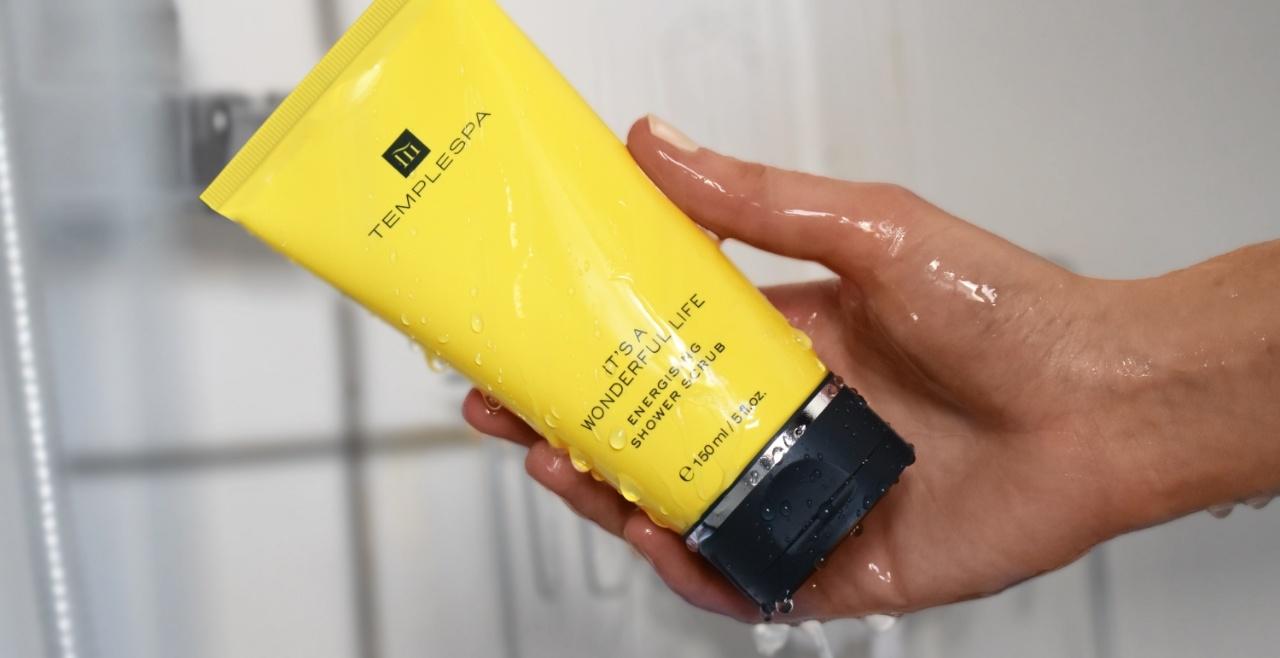 Exfoliating for the body
Now we need to pay as much attention to exfoliating our body as we do exfoliating our face! Like our face, our body can have a build up of dead skin cells that causes uneven texture, dullness and the rest of our body care ingredients not working as effectively as they could be.
Starting with the best exfoliating body scrub at TEMPLESPA, SUGAR BUFF Smoothing Body Scrub refines and nourishes the skin with a blend of fig, pomegranate and relaxing essential oils whipped into a stunning sugar texture. To combine cleansing with your body exfoliator, meet IT'S A WONDERFUL LIFE Energising Shower Scrub. A delicious zesty scent in our cooling gel with added jojoba beads and walnut shell to brighten and exfoliate the skin fast.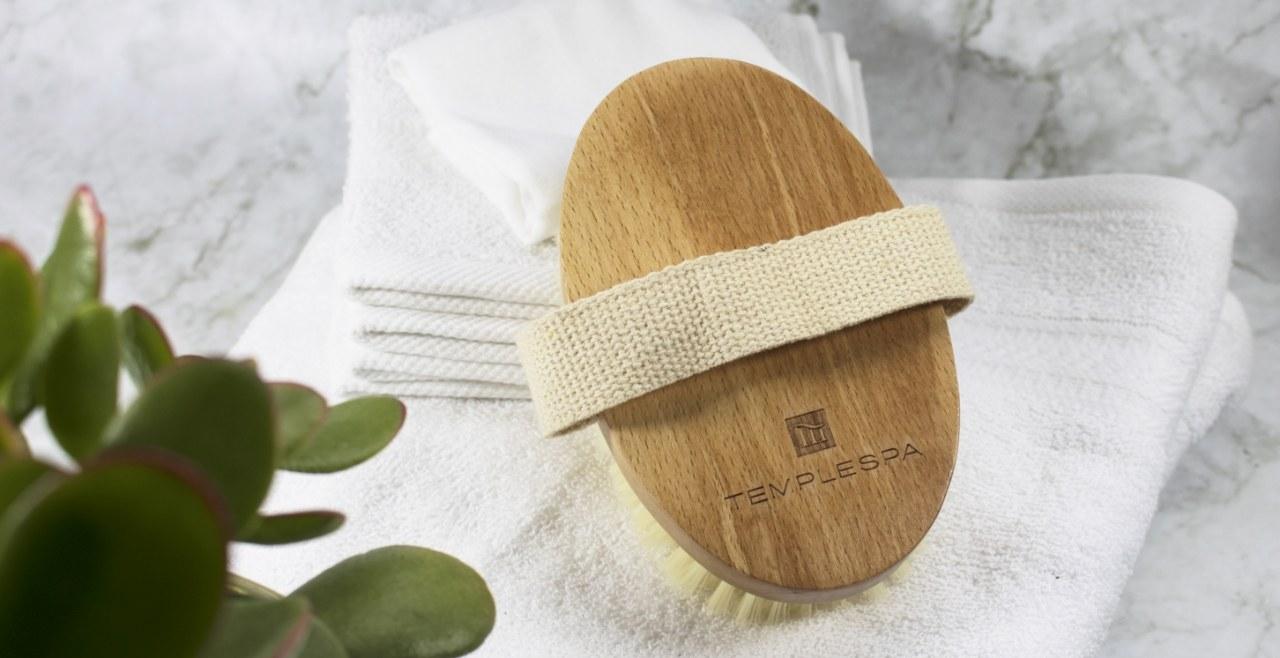 Exfoliating brushes
Practising the art of dry body brushing is a brilliant way to combine health benefits with soft, smooth skin care results. Using our GIVING IT THE BRUSH OFF Detoxing Dry Body Brush use short, firm and swift strokes upwards towards the heart and working along each limb. As well as being a great exfoliating brush for your body and helping to rid those dead skin cells, a dry body brush helps to eliminate toxins and increase blood circulation. Follow our How To Dry Body Brush guide for more.
Not forgetting the face, a cleansing brush can help to enhance the benefits of your cleanser, promote healthier and firmer skin and give your complexion a super deep cleanse. We love to use CLEAN UP YOUR ACT Sonic Wave Cleansing Brush to do all the cleansing work for us, delivering 8000 sonic pulsations per minute to help remove 99.5% of dirt, makeup, impurities and excess oil from the skin! Have a browse of our How To Use A Cleansing Brush blog for all the details.
Now you know all there is about exfoliation, pick your TEMPLESPA exfoliator and get scrubbing!